Deciding to paint old radiators can be a great way to introduce a new colour into your room either blending with the walls or creating a standout piece with a contrasting colour. However, there is a real problem in the UK with a limited choice of coloured radiator paint and often many people ask can you paint radiators with satinwood?
The benefits of satinwood paint for metal is that you can find a range of great colours available and while not specifically made for radiators. You can paint radiators with satinwood paint as it's designed for metal or wood. Satinwood paint gives a mid-sheen softer finish than gloss paint.
Updating the look of radiators are a great way to improve the overall look of a room and often old radiators suffer from yellowing paint that creates a dull look that can result in an unappealing look over time.
Subscribe to our newsletter as we release new site features and publish new home DIY projects.
Answer
Can you paint radiators with satinwood?
This question we've seen asked a lot, especially in the last couple of years with homeowners and DIYs looking to create a unique looking room that encompasses who they are. No one wants boring old bright white radiators these days. Although we are still a fan of a bright white finish, we understand that many customers are looking for a unique look to tie their rooms together and this often comes in the form of a high-quality radiator paint.
The answer is definitely yes, you can paint radiators with satinwood. Satinwood paint gives a very appealing mid-sheen finish that ties well within modern-looking homes. In fact, satinwood finishes have gained a lot of praise from homeowners as paint brands work on developing the final finish and look.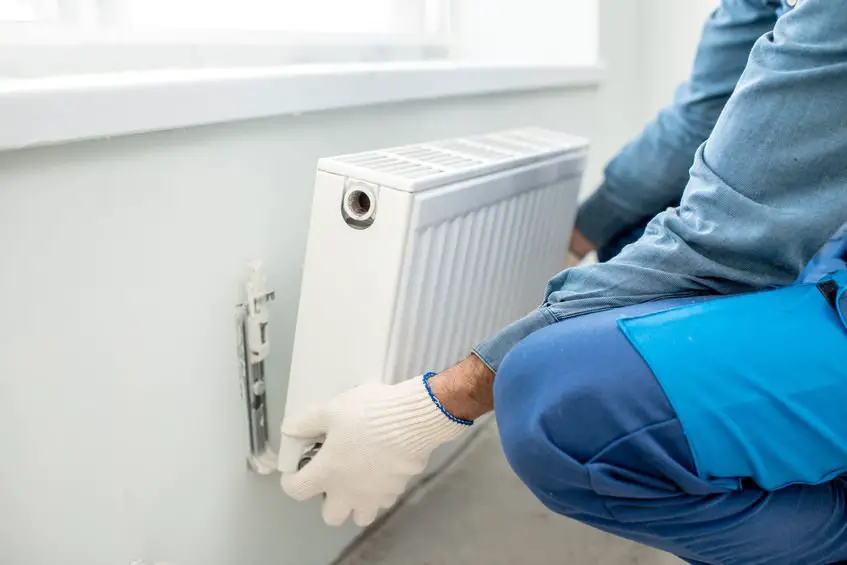 Best Satinwood Paints For Radiators?
Satinwood is a brand of Dulux, If you were looking for a similar semi-gloss/mid-sheen finish from a different brand then it would be known as a satin paint or satin finish. Dulux satinwood is available in a number of different colours.
If you click the link you will see that there is a range of different colours such as a green satinwood radiator paint or a grey satinwood radiator paint. There are around 10 different colours to choose from so if you're looking to purchase, grey, magnolia, light grey or blue then there's a choice for you.
How To Paint A Radiator With Satinwood
When starting a new painting project preparation is key. It's important to get the radiator in a prime condition for painting. Gather all the tools you will need for painting the radiator and make sure you have some dust or paint sheets down to avoid a mess.
Tools you will need:
Paintbrush or roller
Sandpaper
Satinwood radiator paint
Radiator brush (if you are not removing the radiator from the wall)
Dust sheets
Ensure you have plenty of ventilation in the room. Satinwood is often sold as low odour but you will get some paint fumes from it.
Turn the radiator off and the heating off. Do not put the radiator back on until all the paint is dry.
If you are removing the radiator then remove it from the wall after it is completely cool.
Wash down the radiator with sugar soap to remove any grime and dirt that has built up over the years.
Rinse the sugar soap off with warm water to ensure you remove all the residue. This is important to allow the paint to correctly adhere to the radiator.
Sand down any imperfections on the radiator, if there's a lot of layers on the radiator already then try to get it as smooth as possible.
Wipe down the radiator to remove any sanded particles, give it another wash.
Wait till the radiator is completely dry before starting the painting process.
Start by painting the radiator from the outside into the centre. You can use a roller but if it's a grooved radiator then you will have a better application with a paintbrush.
If the radiator is still on the wall then finish off the gaps and crevices with a radiator paintbrush.
Leave to dry for the set amount of time indicated by the paint. This is usually about 4 hours before re-application should start.
Start your second coat and make sure you are fully covering the radiator.
Leave to dry for a minimum of 12 hours, make sure the radiator is completely dry before you turn the heating back on.
If you removed the radiator, re-attach it correctly once everything is dry.
Clean up your paintbrushes, if you've used a water-based satinwood paint then this is easily down with water. For oil-based you will need a tougher solvent such as white spirit to remove the paint.
That's it, you should now have a bright, new radiator in your colour of choice using satinwood paint. You might experience a strong smell for a week or so but it should dissipate in time.
We are sorry that this post was not useful for you!
Let us improve this post!
Tell us how we can improve this post?