Adding carpet stair treads to your home is a great way of making a contrasting feature of your stairs. Recently this type of interior design element has been growing in popularity so we decided to create a guide on how to make your own carpet stair treads.
Now you can buy a wide range of different carpet stair treads from the likes of Amazon that are ready to be put down with very little work. However, making your own carpet stair treads is not a hard process and can easily be achieved on a budget.
This guide is aimed at the DIY carpet stair treads individual, so we made a creating carpet stair treads UK guide. The guide includes step by step instructions to help you achieve a unique looking stairwell without having to spend a lot of money.
We will assume you've got a staircase that's already been painted or sealed so we won't include instructions on how to paint a staircase. That might come later!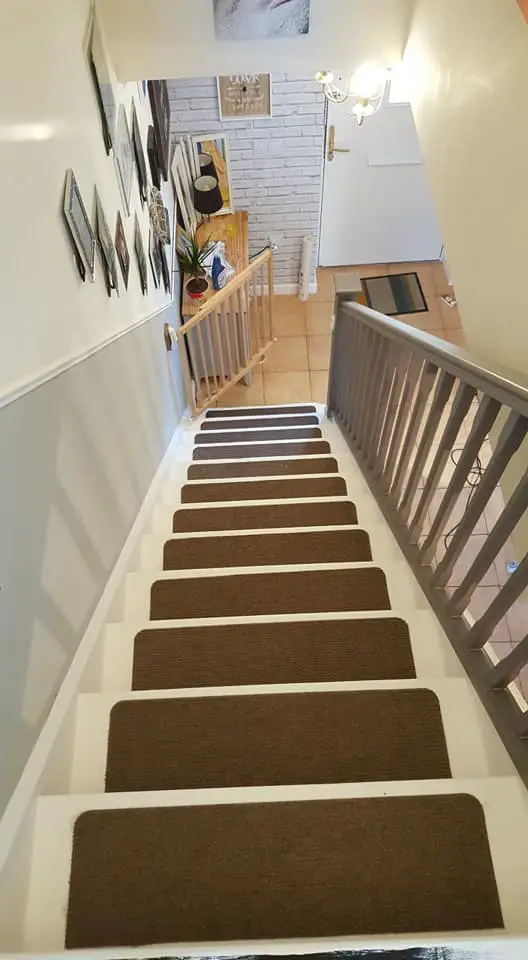 What you will need to make your own carpet stair treads:
Carpet material – or in this guide, we will be using inexpensive doormats we found on offer at a local hardware store. measuring 40cm by 70cm.
Measuring Tape.
Carpet Tape or Adhesive.
Scissors or a Straight Blade
Rubber Backing
Subscribe to our newsletter as we release new site features and publish new home DIY projects.
Step 1 – Select Your Carpet
Before you start the process make sure you have the right carpet for the job. Make sure that you like it before you start sticking the carpet down. For this project, we went ultra-cheap and purchased thin door mats from a UK store called Poundstretcher for £1.79 each. You can buy similar doormats at any local high street store. However, you are not limited to these and can investigate what exactly you are looking for. Shop around and find the best deal.
Step 2 – Measure The Stairs
Measure the stairs to keep you right, measure the length of the stairs and the width of the stairs to make sure you know your sizes and what size the carpet treads should be. They should not be wider than the stairs and have a good margin between the side of the carpet and the wall. We already know what size our doormats are however if you are using carpet just make sure you have enough space. If the carpet is wide then cut it down to width first then separate it into individual carpet stair pads.
If you haven't bought the carpet yet then it's good to go with the measurements when you search for materials for the carpet treads.
Step 3 – Cut The Carpet or Door Mats
Cut the carpet or doormats into the sizes you want using scissors or a Stanley knife, it all depends on what size of the margin you would like to have between the carpet and the stairs. It's a personal preference but try to avoid making them too narrow. They will need to be used for going up and down the stairs.
We cut each doormat into two, along the length of the mat so each one produces two carpet treads so it's a better value already!
Step 4 – Backing The Mats
To protect your stairs you should consider backing your mats or carpet so that you avoid damage to the paintwork. You can use rubber backing that you need to glue with adhesive to keep the carpet or mat stuck to the backing.
You may find rubber backing that's self-adhesive which makes the job a lot easier. The doormats already came with rubber backing so we did not need to go through this step to attach them.
Step 5 – Attach The Carpet Treads To Stairs
Calculate the centre of the stairs from the previous measurements you had taken and work out where the carpet should sit. Use carpet tape to go around the outside of the underneath of the mat or carpet. Finish with a cross in the middle of the back of the mat. Now It's ready to attach. Attach the carpet to the stairs pushing down to stick it when you are happy with its position.
Always start from the top of the stairs and work your way to the bottom. You can use glue instead of carpet tape but we decided to use carpet tape as it could be removed at a later date. Just keep an eye on it to ensure there's no peel off.
The total cost of the project: £29.63
Final Look
The final look of the carpet treads. This project was completed by a Facebook user on our Facebook Group with permission to be on published on this blog.
Pinterest Image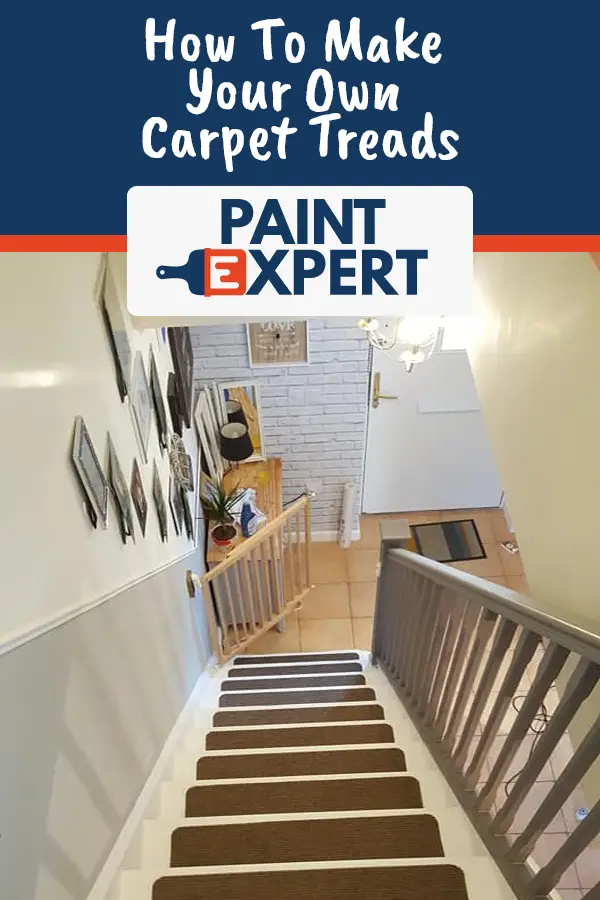 We are sorry that this post was not useful for you!
Let us improve this post!
Tell us how we can improve this post?