DIY Boss
Disclosure: This post contains affiliate links. As an Amazon Associate we earn from qualifying purchases. You can read our full disclosure here.
What is Eggshell paint? A question that we get asked alot and there are not stupid questions here on DIY Boss. Just helpful advice and no judgement.
Eggshell paint is named after the paints resemblence to the surface of an Egg when fully dry, it provide a subtle low-level sheen of which the finish is said to minic the touch and feel of an Eggshell. 
Go grab an Egg incase you're not too sure on what we mean. See how the shell looks and feels? You can expect a similar finish to this when using an Eggshell paint.
This paint will bounce and reflect light throughout a room while still being low-sheen. It can bring a traditional, elegant look to any room and has become increasing popular for walls and ceilings within the home.
Eggshell finish reacts to the room's light levels and can appear a different shade so there's many options to utilise this unique design aspect with additional or minimal lighting features in the home. Eggshell paint can be applied to walls and ceilings but is also a popular choice for woodwork such as skirting boards, kitchen cabinets and trims.
Dulux Quick Dry Eggshell 2.5L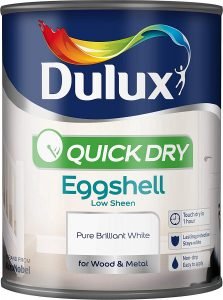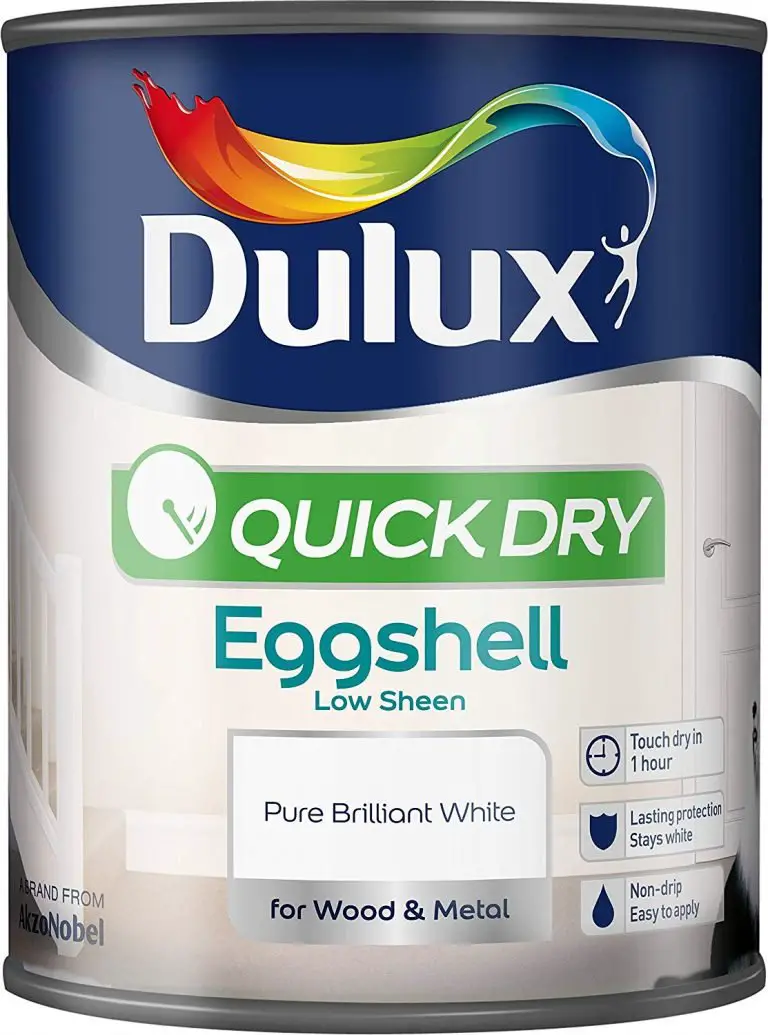 DIYBoss Top Pick – An excellent choice for an eggshell finish to wood and metal.
Leyland Trade Eggshell 5L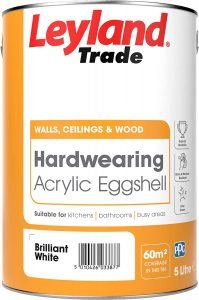 Perfect choice for a hard-wearing Eggshell finish to walls, ceilings and wood around the home.
Johnstone's Eggshell Paint 1.25L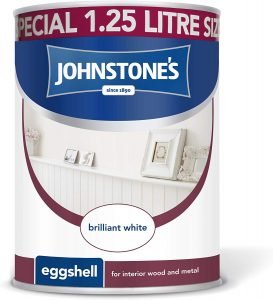 A great cheap Eggshell paint that offers a great finish at a reduced price.
The UK's 5 Best Eggshell Paints Reviewed
So what are the best Eggshell paints that are avilable. Before we get into the list lets have a look at a breakdown of the features.
Perfect for areas around the home that experience low levels of activity and traffic the paint finish is durable and elegant but not as hard-wearing as satin of gloss paints. Known as a shabby chic or trendy paint for it's unique appearance when dry.
Eggshell is not to everyone's taste but is suitable for those looking for an alternative to a high-sheen gloss or mid-sheen satin. Eggshell paint provides a  subtle, low-sheen solution for those looking for something different when painting or decorating that can hold up well in todays homes.
A soft-sheen that's very subtle compared to other paint finishes. Mimics the look and feel of an eggshell hence the name Eggshell paint. It provides much less sheen than gloss and satin, but moreso than matt.
While not as hard-wearing or durable as other high performance finishes such as gloss or satin. Eggshell provides a good protective finish for low-medium traffic areas within the home any large bumps or scuffs can affect the paint.
Eggshell paint is often used in living rooms, dining rooms and bedrooms. It is also a popular choice for woodwork around the home such as skirting boards, rails, trims and doors for a unique look and feel.
Eggshell paint is available in a number of different colours and shades. From white, pure brilliant white, blue, green, black, brown and more. We will try and include some different options below.
We Want Your feedback!
If you've come to select a paint and want to share feedback then we are all ears! We provide advice and reviews on alot of paint products but we don't want the journey to end there. Share any feedback you have below, let us know how you got on with a certain Eggshell paint or ask a question if you need help.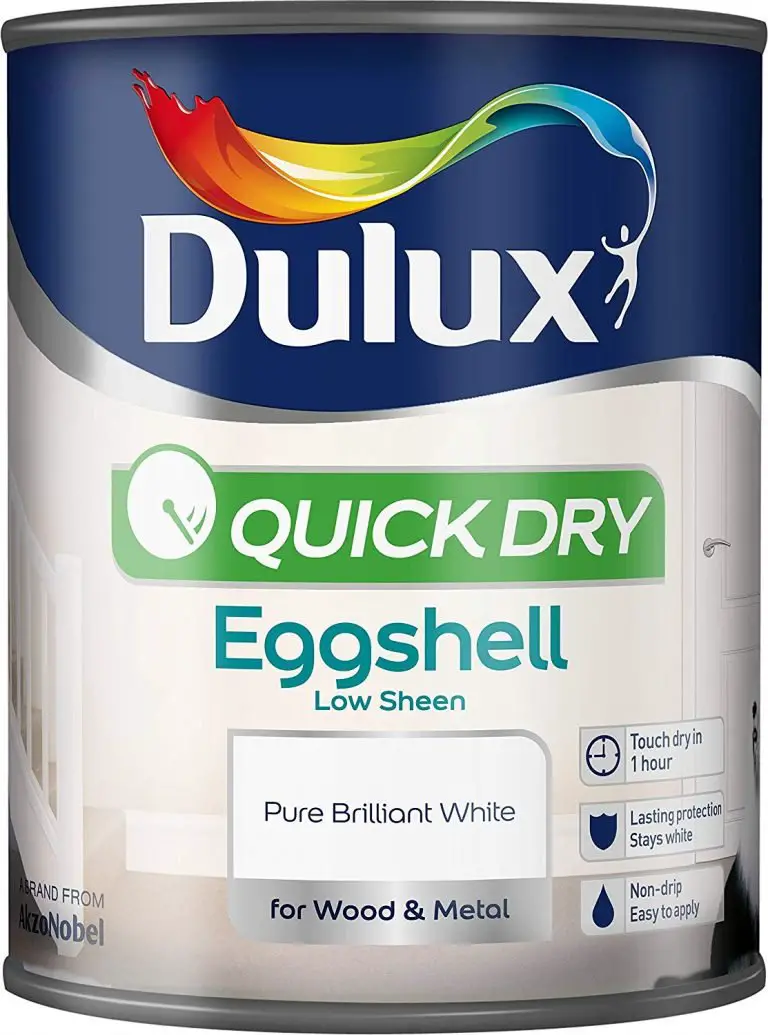 ➊ Dulux Quick Dry Eggshell Low-Sheen Paint Review
The Dulux Quick Dry Eggshell formula produces a low-sheen finish for wood and metal around the home. It's a water-based paint that offers quick drying properties and long lasting protection that stays white.
This Eggshell paint can be used for skirting boards, doors, trims, kitchen cabinets and any woodwork within the home. It offers durable protection and will give you a great finish when applied correctly.
Easily applied with a brush or paint roller the Dulux Quick Dry Eggshell offers a non-drip formula that can be easily cleaned afterwards due to the paint being a water-based compound.
Prepare the surface before painting with sugar soap or any household cleaning products and let dry. Open up any windows to ensure there is plenty of ventilation in the room. This paint is low odour but it does have a slight smell to it.
Expect a great paint coverage of around 16m2 per Litre with this Eggshell paint so you can achieve around 40m2 with a 2.5L tin. Also available in a 750ml tin for smaller home improvement projects means there's a good selection.
While the paint is quite thick in consistency you can water down the paint to a maximum of 10% water to 90% paint to allow the best results.
The quick-dry formula means that this product will be touch dry within 1 hour and you will be re-coatable in 6 hours if needed. While the product says that no undercoat is needed as this is a all in one low-sheen paint we advise an undercoat for wood before applying this paint.
The Dulux Quick Dry tops out list as the best eggshell paint due to the paint coverage, it's rare to get upto 16m2/L and the water-based formula means that the paint is easy to clean, quick to dry and produces little odour.
Excellent paint coverage that allows up to 16m2/L.
Easy to apply with brush or roller.
Non-yellowing white paint.
Heat-resistant means it can be used on radiators.
Two coats for full coverage.
Available in Satin and gloss.
Water-based and low odour.
The paint has a thick consistency but can be watered down for use.
➋ Leyland Trade Hard-wearing Eggshell For Walls, Ceilings and Wood Review
A hard-wearing paint that's suitable for walls, ceilings, kitchens and bathrooms. The Layland Trade Acrylic Eggshell Paint provides great protection and can be used in high-traffic or busy areas of the home.
Labelled as a superior quality and claims to be 10 times tougher than vinyl silk. If you are looking for the best eggshell paint for walls and ceilings then you should be considering this product for a mid-sheen, stain and moisture resistant finish.
The moisture resistant properties of the Leyland paint means that this paint is suitable for wetroom areas around the home such as the bathroom and kitchen. So you can now get an eggshell finish in the bathroom. 
The water base of the product produces little to no odour, but still results in a very hard-wearing and durable finish for busy areas around the home. The stain resistant feature allows surfaces to be easily cleaned when dry without peeling the paint.
Expect a a drying time of around 4 hours and re-coatable in 6-8 hours. it produces a bright white finish that's extremely durable and will achieve an attractive eggshell finish. You will get around 12m2 per Litre of paint coverage with the product available in 750ml, 2.5L and 5L tins for great choice.
Suitable for both wood and walls you can apply this paint to skirting boards in high-traffic areas around the home where you want a high-quality mid-sheen finish that won't peel or scuff easily.
Extremely tough and hard-wearing for an eggshell paint finish.
Expect around 12m2 per Litre.
Available in 750ml, 2.5L and 5L tins.
Results in an easy to clean surface.
Can be applied to wood, ceilings, walls.
Suitable for bathrooms and kitchens.
May be too 'sheen' for those looking for a low-sheen eggshell finish.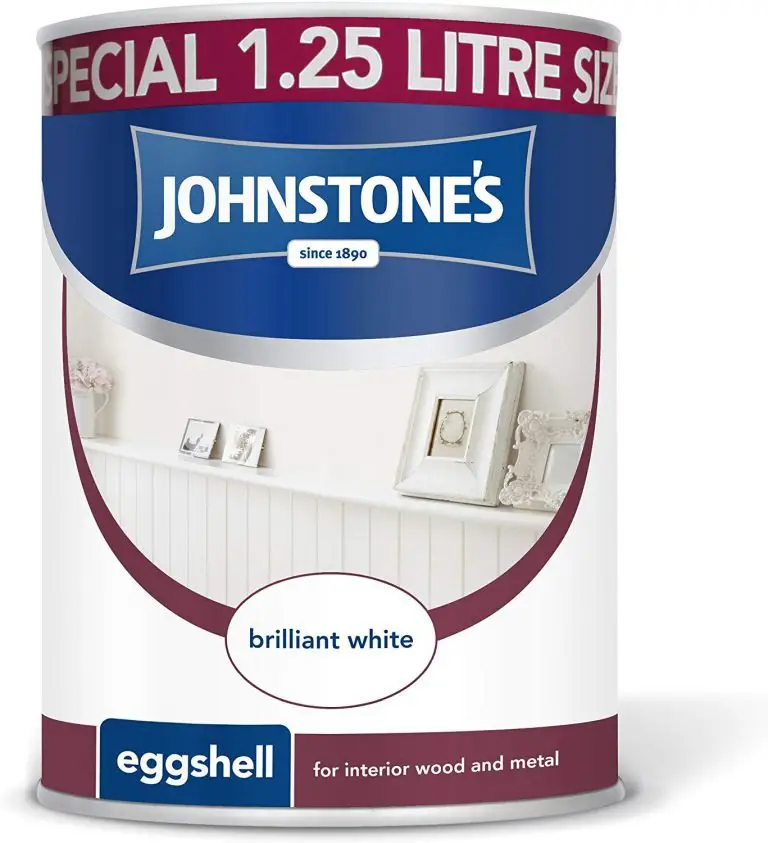 ➌ Johnstone's Eggshell Paint Review
The Johnstone's Eggshell paint for interior wood and metal is a good choice for those on a budget. It can be applied to all wood's within the home such as skirting boards and doors.
It provides a beautiful, long-lasting durable finish that's to be expected from an oil-based paint. It has good coverage of around 12m2 per Litre but a drawback is that this paint is only available in brilliant white.
Applied easily with a brush or roller the paint although oil-based doesn't yellow easily and stays brilliant white for a long-lasting finish.
You can apply this product to radiators inaddition to wood around the home but before you start the painting process ensure that you prepare the surface correctly by sanding down and cleaning the surface.
Ensure there's plenty of ventilation within the room as the oil-based paint does produce an odour that's quite strong but the final result is a hard-wearing durable finish that will hold up well to scuffs and bumps.
You can use this paint in high-traffic areas and once dry can easily be wiped clean. Allow upto 16 hours for this paint to be touch dry and you can re-apply a second coat after around 24 hours. No undercoat is required but you may need additional coats if covering dark colours.
Expect to clean your paint brushes with white spirit or similar as this paint is oil-based the cleaning up process is a little more intensive than using other eggshell water-based paints.
Strong and durable high-quality finish.
12m2 per Litre paint coverage.
Won't chip or scuff easily.
Suitable for high-traffic areas.
Paint stays white for a longer period compared to other oil-based paints.
Easy to clean after paint has dried.
Oil-based means there's a strong odour but prepare the room first to avoid any problems.
Drying time inline with other oil-based paints.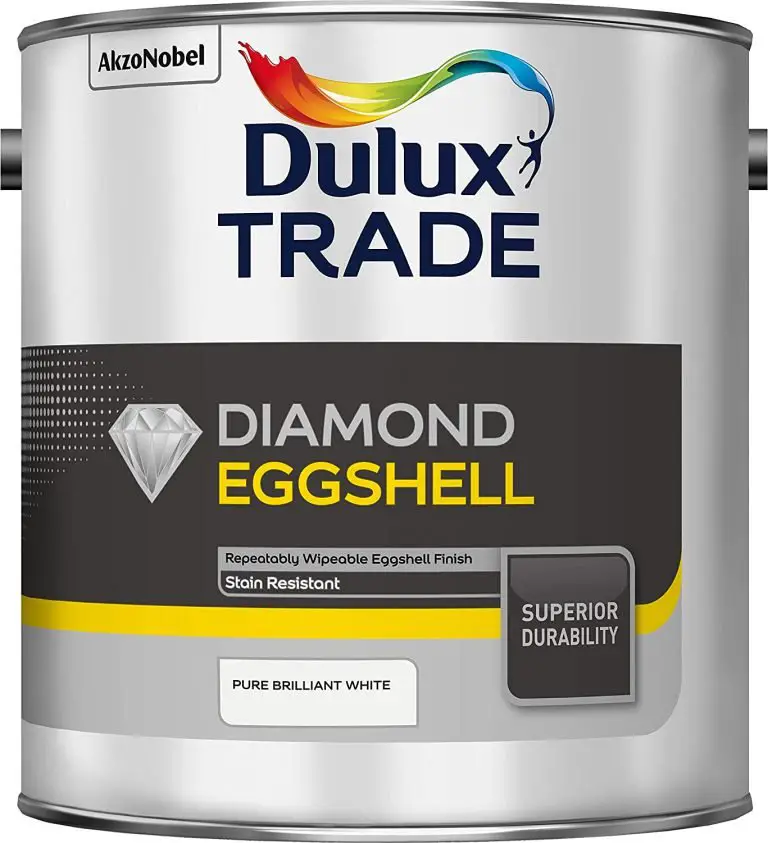 ➍ Dulux Trade Diamond Eggshell Review
Dulux Trade Diamond Eggshell can be purchased in 2.5L tins or 5L tins and while this paint is more expensive than other paints it provides superior durability with it's wipeable and stain resistant properties.
This paint results in an attractive mid-sheen finish that's upto 10 times more stain resistant than regular water-based eggshell paints. It also claims to be 10 times tougher than vinyl silks which is very similar to the Leyland Trade Eggshell.
Trade paints are costly when compared to home paints but they provide a stronger, more durable finish as a result. With this trade eggshell you can expect around 16m2 per Litre coverage which is exceptional.
With most water-based paints the drying process is quick and while it's not a quick dry product you can expect this paint to be touch dry within 6 hours and re-coatable in 8 hours. The water-based eggshell paint will stay white and won't yellow over time so there is no worry of dulling occuring.
Suitable for walls, ceilings and wood it can be applied to trims, skirting boards, bathrooms and kitchen cabinets which means it's a great all purpose product for home improvement. The paint can be thinned if you find that it's too thick but only mix upto 10% of clean water to 90% of paint.
Trade paint lets an amateur DIY'er achieve a professional finish with very little effort. In my experience it's always worth going for trade paints but it really depends on your budget.
Water-based so can be easily applied to walls, ceilings and wood.
Low odour and dry within 6 hours.
Non-yellowing provides long-lasting coverage.
Available in 2.5L or 5L tins.
Easy to clean and wash.
Strong, tough and durable for an eggshell paint.
Thick consistency makes great coverage.
16m2 per Litre.
Cost may be too high for those on a budget.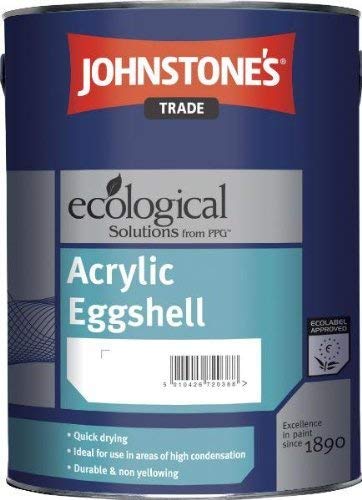 ➎ Johnstone's Trade Acrylic Eggshell Paint Review
The Johnstone's Trade Acrylic Eggshell paint provides a superior and durable finish that can be applied to ceilings, wood, walls and metal.
A low odour paint from a water-based compound means that working with the Johnstone's Trade is a smooth and enjoyable experience.
The acrylic in the paint gives a hard-wearing mid-sheen finish so while this paint is extremely durable don't expect a low-sheen finish with this paint. Infact most trade eggshell paints are mid-sheen as they need to be hard-wearing and durable.
Featuring quick-drying properties this paint will be touch dry in around 4 hours and can be re-applied for a second coat after 6 hours. For the best results you need to use an undercoat or apply atleast two coats.
Benefits of this paint means that it can be applied in wetrooms and high condensation areas such as bathrooms, kitchens and shower rooms as it features moisture protection.
Trade paint is often used in high-traffic public areas which means that it needs to be strong and durable. You will get this type of finish in your home if you choose the Johnstone's Trade Eggshell Paint.
Condensation and moisture protection means it can be applied to bathrooms and kitchens.
Touch dry in 4 hours and re-coatable in 6 hours.
Water-based paint means it won't yellow over time.
Strong and extremely durable, great for high-traffic areas.
Cost of trade paint may turn people away from this product.
After researching this article and looking back on the Eggshell paints we reviewed it was easy to decide what the best eggshell paint is. The dulux Quick-Dry Eggshell water-based paint provides a great balance between performance and cost.  While it's great for wood and metal throughout the home it's not a great choice for walls and ceilings.
For walls and ceilings then you should choose the Leyland Trade heard-wearing eggshell paint as it provides a great finish that's strong and durable and is a joy to apply. With the added benefit of being suitable for a range of different wetrooms such as the bathroom or kitchen due to it's condensation protection properties it is a great multi-use paint
Egghsell paint comes in a variety of colours with the most popular being white or brilliant white. Before selecting a colour you need to consider what surface is going to be painted. Popular on woodwork and metal aswell as ceilings and walls an eggshell paint give you a unique look and feel to your home.
While white and brilliant white are the most popular shades of eggshell you can purchase this paint in a variety of different colours and shades. Greys and blues are extremely popular for walls and wood furniture especially in slate grey or hague blue/stiffkey blue shades.
Magnola can be a great choice for contrasting ceilings with walls and brown and greens can blend well for a more rustic look in your home.
With Eggshell paint having a unique look that often lightens or darkens the shade depending on the light within a room there are many great choices to achieve a unique atmosphere within the home.
Black and browns can add an interesting contrast to cabinets and skirting boards that stand out and make a statement piece.