DIY Boss
Disclosure: This post contains affiliate links. As an Amazon Associate we earn from qualifying purchases. You can read our full disclosure here.
One of the easiest ways to improve the look of a home is to give radiators a new lease of life with a fresh coat of radiator paint to streamline and match the home decor.
While there are a number of options to cover your radiators with specialised radiator covers these can often be bulky and expensive, so not only do they take up a lot of floor space they can hurt the wallet/purse. A great alternative to radiator covers is bringing new life into dated or yellowed radiators with a fresh coat of specialised paint.
While at the start it might seem daunting, bringing a new flawless look to a radiator can be easier than you think. You will need a good metal heat resistant paint that can be easily applied to radiators with either a paintbrush, paint roller or spray can.
While there are a number of paints for woodwork and metal available in the UK, choosing a paint that is specifically designed for radiators can prove to be a more difficult decision.
So how do you inject new life into an old radiator and keep them looking their best? It's easy to do and affordable with radiator paint.
With so many options on the market, it can sometimes seem overwhelming. Here is a list of the best radiator paints that we think you should be considering if you've made the decision to brighten up your radiators.
Hammerite REG500 Gloss White 500ml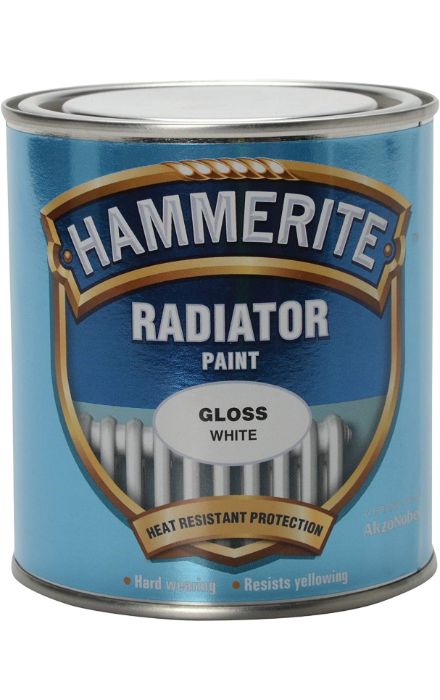 DIYBoss Top Pick – an excellent heat resistant, tough and durable but easy to apply paint.
Dulux Quick Dry Gloss Paint For Metal 750ml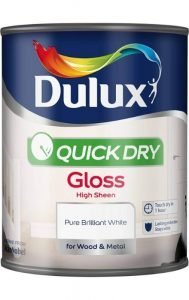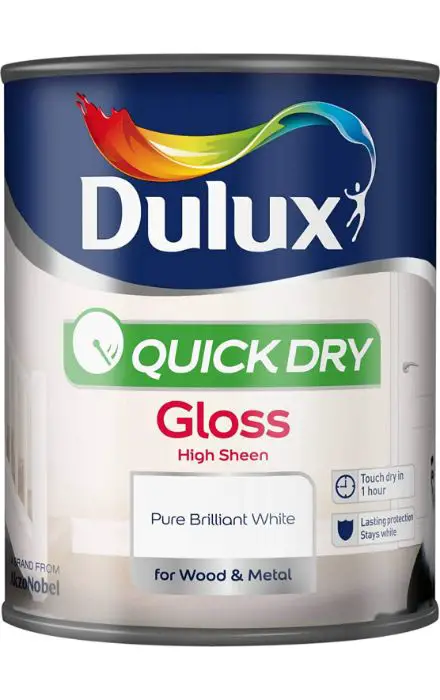 An all purpose paint for wood and metal that can be applied to radiators for a high sheen finish.
Hammerite Gloss Spray Paint 400ml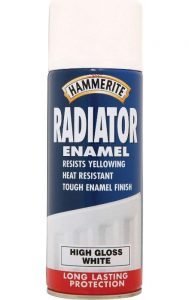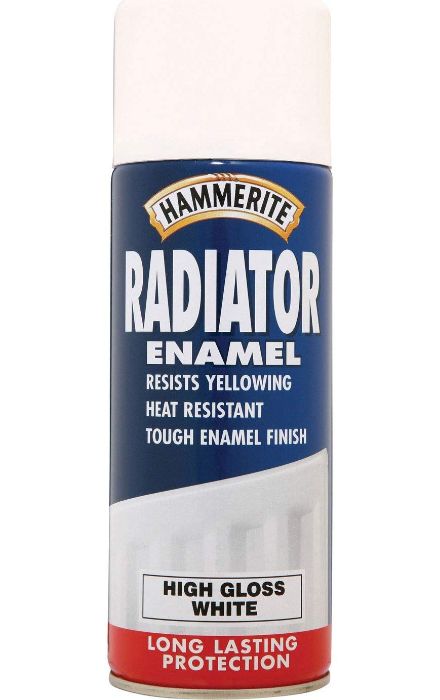 An excellent choice for those looking for a quick dry fast application radiator paint to get the job done.
The UK's 5 Best Radiator Paints Reviewed
The DIY Boss team decided to take a look at the most popular and most recommended radiator paints available in the UK. This initial selection of 9 paints is further narrowed down to 5 radiator paints for the final list creation.
The final 5 selected paints pass our initial selection criteria and they are those which we think are best suited for the job and will provide the most success for those using them. Whether you are a tradesman or a DIYer there are some great options below to help you choose the best radiator paint.
When selecting which paints to review and discuss we narrow down the choices by using the following selection criteria;
Fit For Purpose – Does the paint do what it is supposed to?
Application – How easy is it to apply the paint?
Availability – Can you currently purchase the paint within the UK?
Finish – What are the end results?
Cover – How well does the paint cover the surface and how much paint is needed.
Dry Time – How long is dry to touch time period?
Re-Application – When can you re-apply a secondary or third coat?
The result of this selection and deliberation is the list below. With that being said, here are the UK's 5 best radiator paints available, selected and reviewed by the DIY Boss team.
We Want Your feedback!
If you've come to select a paint and want to share feedback then we are all ears! We provide advice and reviews on alot of paint products but we don't want the journey to end there. Share any feedback you have below, let us know how you got on with a certain radiator paint or ask a question if you need help.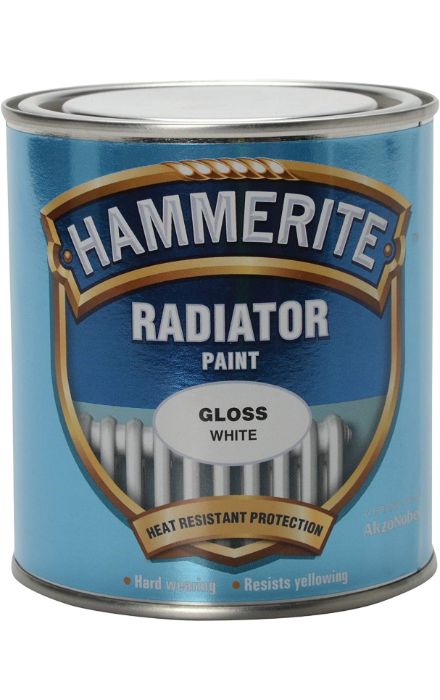 Hammerite REG500 Radiator Paint Review
The Hammerite REG500 500ml Radiator Paint – Gloss White 500ml gives a tough gloss finish to dull and yellow radiators to bring them a new lease of life. This paint can also be applied to water pipes and metal for a shiny, white glossy finish that won't easily chip or scratch. It's definitely a hard-wearing paint.
The Hammerite REG500 Radiator Paint is a solvent-based, low odour paint and during testing, it didn't smell any stronger than normal gloss paint.
However, it does feature a high VOC (Volatile organic compounds) count which does come with some precautions you should take.
The Hammerite radiator paint should only be used in well-ventilated areas so pop open windows and ensure you have enough ventilation before you start painting – the more ventilation the better.
On a more positive note, the high VOC of this paint aids in the protection and presentation of your radiator, with the VOC discouraging yellowing of the white gloss which you often see on old radiators.
The Hammerite Radiator Paint dries within 4-6 hours to a touch, if you're applying a second coat then you should wait for between 12 – 16 hours for it to be completely dry for the best results.
For best results apply a second coat, you will get full coverage with two coats if you allow enough time for the first coat to dry. On covering a black radiator this paint required three coats to fully cover without any see-through.
This is DIYBoss's choice for the best radiator paint, with Hammerite products often exceeding own shop brand products. This paint provides a durable, hard-wearing non-yellowing gloss finish that is easy to apply and provides rust protection with a bright white end result perfect for all your home radiators.
Great paint coverage that allows up to 3.5m2/500ml tin (7m2 per 1L).
Easy to apply with brush or roller.
Non-yellowing gloss paint discourages discolouring.
Heat-resistant paint gives long-lasting results on radiators and heated pipes.
Two coats for full coverage.
 Available in Satin white, Gloss white and Quick Dry formula.
The paint has a thin/watery consistency which means that it can drip alot and create mess. It's a small con against the paint and we find working with it easy and quick.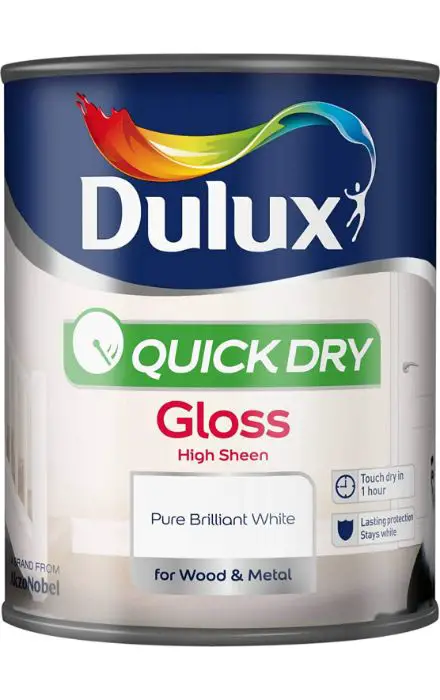 Dulux Quick Dry Gloss Radiator Paint Review
The Dulux Quick-Dry for wood and metal paint is a high sheen gloss that's suitable for radiators. You can apply this paint without any primer or undercoat and is easy to apply.
While not as durable as other specialised radiator paint we found good results from this paint, especially if you're looking for a water-based paint which the Dulux Quick-Dry Gloss fits in this category.
The paint can be dry to touch in around 1-2 hours if there's plenty of ventilation and the room temperature is not too low (Spring/Summer weather). With most water-based paints the Dulux Quick-Dry for metal and wood paint can be quite thin when applying and will take a minimum of two costs to cover a yellowed radiator.
It does a good job of brightening up radiators and with its quick-dry formula, it provides a faster approach to painting radiators. The paint comes in a 750ml tin which suggests it would cover 12m2 however with painting a radiator you'll definitely need to apply a minimum of two coats.
This Dulux is a low odour paint and long-lasting water-based paint that is one of the best water paints available, although you won't get the benefits of using a hard-wearing oil-based paint we included this paint because of its multitude of applications throughout the home and the fact it is available in a range of different colours and finishes.
Water-based paint with low odour – very little smell comes from this paint.
Comes in a gloss or satin finish with different colours available to suit your home decor.
Quick-drying in 1-2 hours
750ml tin will cover 12m2
Will need to apply 2 coats at a minimum
Not as hard-wearing as oil-based radiator paint.
Water consistency can mean a messy application.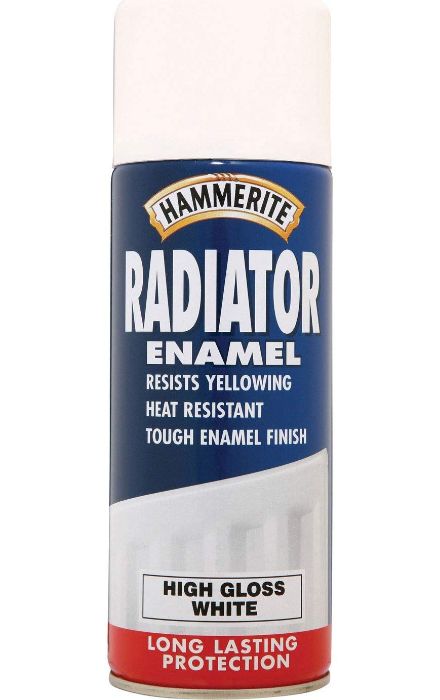 Hammerite REGAERO Radiator Spray Paint Review
The Hammerite REGAERO Radiator Spray provides a long-lasting gloss finish to any radiator. It's a high gloss mixture which produces a tough and durable finish with great shine and is the best radiator spray paint we have comes across.
With a drying time of around 2 hours and re-paintable after just 15 minutes (Although we would always leave 2 hours), it's one of the fastest paints to apply. If you're looking to get the job done in the minimal amount of time then you should be considering this radiator paint.
Hammerite Radiator Spray Paint is easy to use but as this is a spray be sure to give yourself enough room around the radiator as the paint particles do spread very easily. Ensure you cover at least 1m around the radiator and put down drop cloths to stop paint spreading onto other objects or walls.
The spray is easily applied so it won't leave unsightly marks such as brush strokes but you need to apply it with a steady hand and cover evenly. While the spray dries quickly it is applied thinly so you will most likely need a couple of coats to get the best results.
It's perfect for those wanting to avoid the use of a paintbrush or roller with minimum time looking for a smooth heat resistant gloss finish to a home radiator. You may need more than one can although as the 400ml size is not the best – you will get about 0.5m2 per litre – but for quick small jobs, it's ideal.
Quick-drying time of 2 hours.
Re-paintable after just 15 minutes.
Avoid brush marks with radiator spray paint.
Easy to apply.
Great high gloss finish.
Only 0.5m2 per Litre means you will need a couple of cans.
Paint can spread far from the spray so protect the space around your radiator.
More costly than other paints per Litre.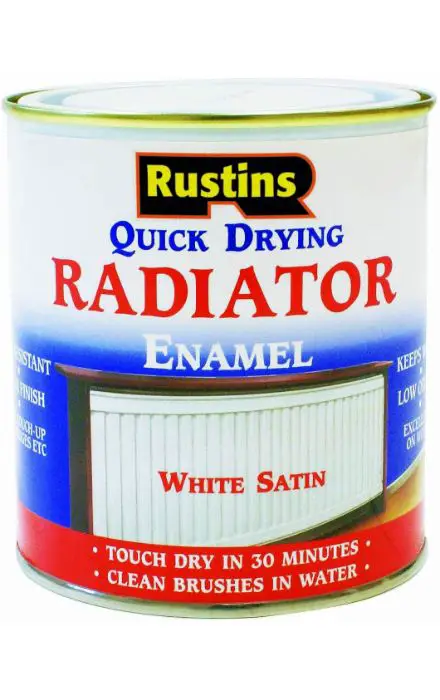 Rustins RADS250 Quick Dry Radiator Paint Review
The Rustins RADS 250ml Quick-Dry Radiator Paint is a satin finish water-based paint that can be touch dry in just 30 minutes. This paint is also available in a gloss finish but we've decided to include a highly rated satin radiator paint in this lineup because, well not everyone wants a gloss finish.
Formulated with a special non-yellowing acrylic emulsion with high-quality white satin pigments, this quick-drying radiator paint from Rustins will produce a white finish that will be yellow resistant, durable and long-lasting.
This paint can be used for domestic hot water radiators but is not suitable for electric oil-filled radiators so keep that in mind.
Rustins is a low odour paint that will require between 1 and 2 coats for most radiator paint jobs, we advise for the best coverage and smooth finish you apply at least 2 coats with at least 4 hours before re-applying the paint for the second coat for the best results.
The coverage of the Rustins Quick-Drying radiator paint is around 14m2/Litre which gives you enough in a 250ml for around 2.5m2. Not a massive amount but enough to do 2-3 radiators with multiple coats. 
Stir the paint well before applying and allow the radiators to be cold. Use a synthetic fibre brush for the best results and ensure that you leave at least 2 hours after you've painted the final coat before turning on the heating.
An ideal paint if you're looking for satin water-based radiator paint that allows for quick drying and can be applied easily with a brush. Keep the coats thin to avoid any paint sagging and with it being water-based you can clean the brushes easily with water.
Water-based so can be easily applied to the radiator and easy to wash off paint brushes.
Low odour with quick drying times of 30 minutes for touch dry.
Only 4 hours of drying time before reapplication.
Non-yellowing high-quality white pigments that provide long-lasting coverage.
Available in Satin, Gloss finishes and 250ml, 500ml and 1Litre volume tins.
You will need at least 2 coats for full coverage.
Will need bigger than 250ml tin for more than a couple of radiators.
Paint is very thin so apply evenly and allow the necessary drying times before reapplication.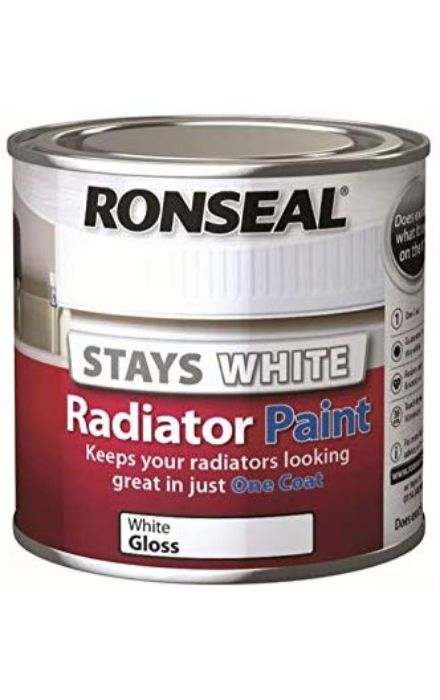 Ronseal One Coat Radiator Paint Review
Ronseal Stay White One Coat Radiator Paint is available in a white gloss finish and while we were sceptical about the one coat claim on this radiator paint it did surprise us when it came down to the testing. Most one coat products most certainly won't provide the best finish than just applying two coats of paint.
This is a specialised paint designed to protect and cover domestic water-heated radiators within the home, while we did read that you get the best results from non-primed surfaces if you're painting a bare radiator we always suggest you prime them.
Is it really one coat? If you're applying the paint to a slightly yellowed surface then you probably will get away with just one coat. But applying to anything other than slightly yellow radiators then you will need to use at least two coats for the best results.
The paint is heat resistant and leaves a tough, durable finish but does require a 24 hour for it to be fully dry which is not touch dry. We found that the Ronseal radiator paint was touch dry in as little as 6 hours with a well-ventilated room with some heat.
A high-quality finish can be achieved using this paint but there are other better options out there. It says stay white and we found that the high VOC means that it's not likely to yellow like other paints.
Tough solvent-based paint that will protect from rust and scrapes and bumps.
Reasonable drying time for oil-based paint.
Re-apply coat in 16 hours if needed.
Thick consistency with this paint.
While the thick consistency means it's easy to apply it does mean that the coverage is poor for this paint.
What About Other Radiator Paint Colours?
So you may have noticed certain things about the majority of paints in this review. Most of them are white which limits your choice for specific colour preferences when searching radiator paint. 
Fortunately, there is work arounds for instance, the Dulux Quick-Dry for metal and wood can be applied to radiators and it's available in different colours. Be aware though, they are not as hard wearing and their finish will differ from those specialised for radiators.
Quite often we get asked about grey radiator paint or black paint for radiators. Here are a selection of the Dulux paints, there are more colours available than the 8 listed.
Dulux Quick Dry Black For Wood & Metal
Dulux Quick Dry Chich Shadow For Wood & Metal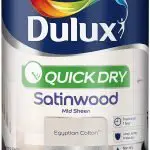 Dulux Quick Dry Egyption Cotton For Wood & Metal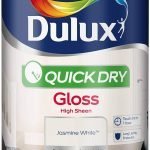 Dulux Quick Dry Jasmine White For Wood & Metal
Dulux Quick Dry Luscious For Wood & Metal
Dulux Quick Dry Magnolia For Wood & Metal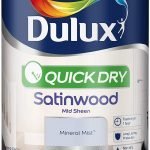 Dulux Quick Dry Mineral Mist For Wood & Metal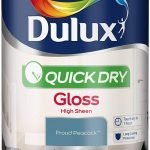 Dulux Quick Dry Proud Peacock For Wood & Metal
After spending time writing and testing radiator paints it really comes down to what you need from the paint in order to suggest the very best choice. For a specialised radiator pain then consider the Hammerite REG500 Gloss White 500ml which is great for high quality but durable gloss finishes that won't yellow.
For a spray paint then go with the Hammerite Gloss Spray Paint 400ml. It will make for an easy and quick application. Just remember that spray paint spreads and releases a lot of small paint particles. outline the area and make sure you have a mask, proper ventilation and drop cloths to avoid the paint travelling onto walls or floors.
Best of luck with your project and do let us know how you get on in the comments section below.
What You Need To Know About Radiator Paint
Radiators are essential, they provide heat throughout the home but they can appear unsightly especially if they are old and scraped. There are a number of options you can utilise to improve the visual appearance of radiators. You could place radiator covers over them which saves time but can be costly and they often block heat and reduce floor space. 
The ideal solution for improving the look of radiators is by giving them a new lease of life with the application of radiator paint. There are a number of different radiator paint colours and types of paint available which can make choosing the best one for your home difficult.
What Types Of Radiator Paint Are There?
Specialised Paint
This paint type is specially designed for applying to radiators. If you're looking to spruce up your radiator but keep it uniform white then this is an ideal paint to bring life back into dull and yellowed radiators. Specialised paint does not discolour and yellow over time and provides an easy way to update your radiator.
Clear Paint
While it's not recommended by DIY Boss to put emulsion paint onto radiators we do know this happens. If this is something you are going to do then you need a clear protective coating over your existing emulsion paint to ensure it doesn't come off. We advise specialised radiator paint instead.
Spray Paint
Did you know that you don't need to apply paint by a brush or mini roller to a radiator? You can purchase specialised radiator spray paint that means easy and fast application without an enormous amount of mess. There are downsides to using a spray although, you need to spray evenly for a professional finish and it would be advised to remove the radiator from the wall to complete the look.
What To Consider When Choosing a Radiator Paint
The Finish of The Paint
Selecting what paint to use really depends on your desired finish. The finish of the radiator will ultimately affect the look and aesthetics, the finish is a personal preference so read more about the types of finish if you're unsure.
Gloss Radiator Paint
As the name suggests, this paint gives a glossy, shiny and sleek finish. You should choose gloss paint if you're looking for a reflective finish which bounces light off around the room.
Satin Radiator Paint
A satin finish is very different from gloss, satin provides a smooth-like look when applied to a well-prepared surface. Best described as a mid-sheen finish. Satin paint is easy to wipe and results in a softer colour appearance than a gloss but be aware that satin paint often makes lumps and bumps more noticeable than gloss. Something to consider when choosing satin radiator paint.
Texture Finish Paint
While not enormously popular, the trend has been heading in the direction of more unique looking radiators and there are new products arriving each year. A satin textured look is proving to be popular and can be achieved by a number of different radiator spray paints. One such product is the Rust-Oleum Ultra-Tough Enamel Spray Paint which is specifically designed to give textured finishes such as a grey cast iron radiator finish.