DIY Boss
Disclosure: This post contains affiliate links. As an Amazon Associate we earn from qualifying purchases. You can read our full disclosure here.
The most popular paint for walls and interiors is a matt emulsion. Applying a fresh coat of paint to a room can brighten and freshen-up your home. But with so many emulsion paints on the market it's hard to know what the best emulsion paint for walls are.
Choosing the right paint can be confusing with so many options available but there are several stand out emulsion paints that make decorating a breeze. 
Emulsion matt paint dries to a smooth low-sheen finish that can disguise small wall imperfections inwhich other types of finish can highlight. With a matt emulsion paint you will get a great finish that doesn't magnify small bumps and lumps on your wall.
Silk Emulsion paint can give a room a mid-sheen finish that reflects light that can help to expand the look of the room and make it appear bigger than it actually is. 
If you have alot of minor imperfections on your walls then silk emulsion can highlight these issues so keep that in-mind when you are selecting the best emulsion paint for walls and interiors.
Dulux Matt Emulsion For Walls & Ceilings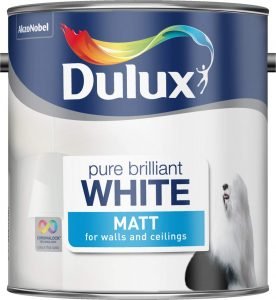 DIYBoss Top Pick –  A great affordable matt emulsion with good paint coverage.
Polar Contract Matt Emulsion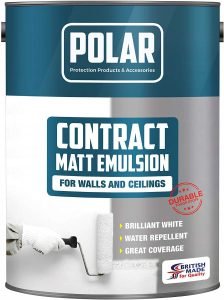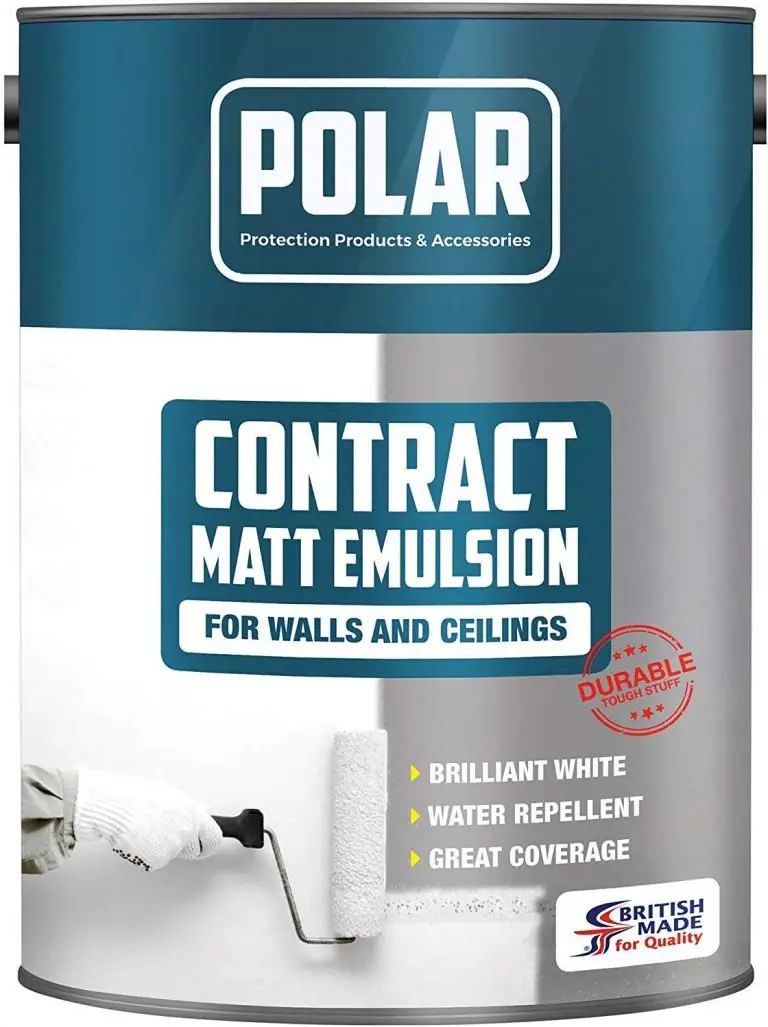 A high-quality matt emulsion that features a water repellant finish and great coverage.
Johnstone's Vinyl Pure White Emulsion
Johnstone's offering is an emulsion that's great for walls and ceilings with good paint coverage.
The UK's 5 Best Emulsion Paints Reviewed
Emulsion paint is the best paint for walls and ceilings as they provide the most cost effective way to cover large areas and offer a certain ease of application. 
Anyone can give their walls a new coat of paint with a paintbrush or roller to freshen-up the look of their homes with relative ease. We put together this list to help anyone that's thinking of using emulsion paint to give their home a new look.
While there's not a great deal of colour variations in the paints listed on this page, if you click through to the emulsion paint you may find a variety of different colour options and sizes for each paint listed below.
Let's have a look at the latest emulsion paint offers today.
We Want Your feedback!
If you've come to select a paint and want to share feedback then we are all ears! We provide advice and reviews on alot of paint products but we don't want the journey to end there. Share any feedback you have below, let us know how you got on with a certain emulsion paint or ask a question if you need help.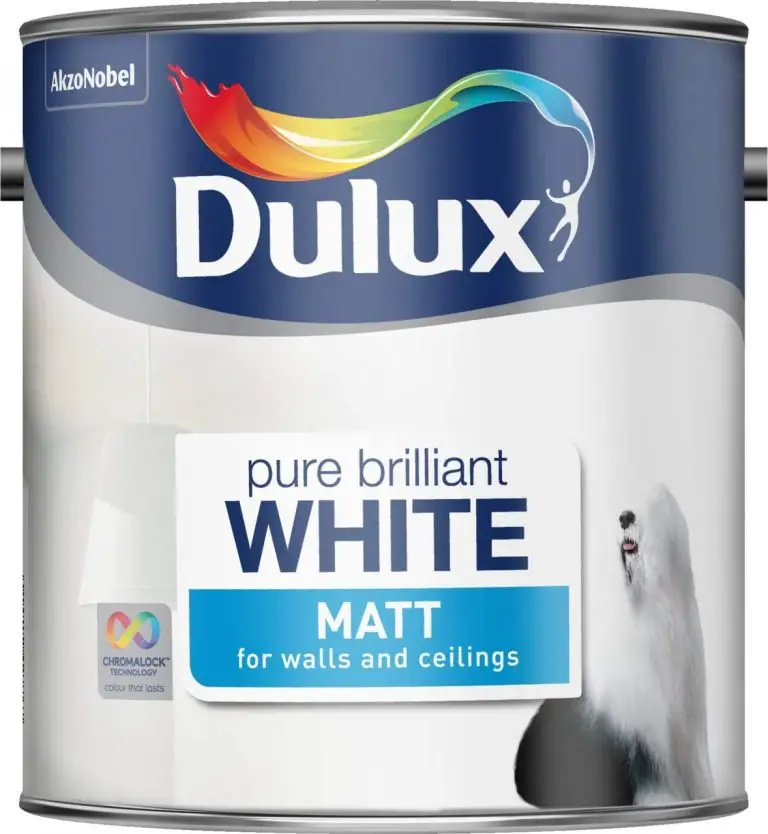 Dulux Pure Brilliant White Matt Emulsion Paint 2.5L
Dulux Matt Emulsion is a smooth creamy paint that is suitable for walls and ceilings. It can be used to brighten up any room within the home by giving walls and ceilings a fresh new matt look.
Dulux paint is a leader in the home DIY arena and while there's been reports of the quality of Dulux slipping in recent years, the Dulux matt emulsion holds up to the high standards that are required for an high-quality emulsion.
Available in over 80 different colours, Dulux emulsion offers the best variety and choice of home emulsion paints.
Dry to touch in 2 hours the Dulux emulsion can be re-coated within 4 hours, the water-based emulsion allows the paint coat to dry in a short amount of time that allows you to work fast and effectively.
Although this paint is non-washable due to the matt finish the product is durable and long-lasting, helped along by it's unique chromalock technology that is said to seal and provide a protective layer on the top of the paint that provides long-lasting non-fading colour.
Easily applied with a paintbrush or roller the Dulux matt emulsion provides great coverage, you can expect to get around 13m2/L from this product. Which means you will get 32m2 per 2.5L tin or 16m2 if applying two coats.
The matt finish allows the paint to cover small imperfections and bumps on the wall flawlessly without the need for extra wall work to be done.
While this paint has alot of great benefits and it's one of the best emulsion paints available there are some minor drawbacks. The consistency of the paint is thin which means that if you are covering dark walls then you will need to apply multiple coats.
The Dulux emulsion is available in matt and silk finish and several different size: 2.5L, 3L, 5L, 6L and 7L tins.
Great paint coverage that allows up to 13m2 per L.
Easy to apply with brush or roller.
Chromalock colour technology for long-lasting brightness.
Available in Matt or Silk.
Range of different size tins available
Quick drying time of 2 hours.
Re-application after 4 hours of drying.
Need atleast 2 coats for decent coverage. 3 minimum for dark colours.
Not suitable for bathrooms and kitchens.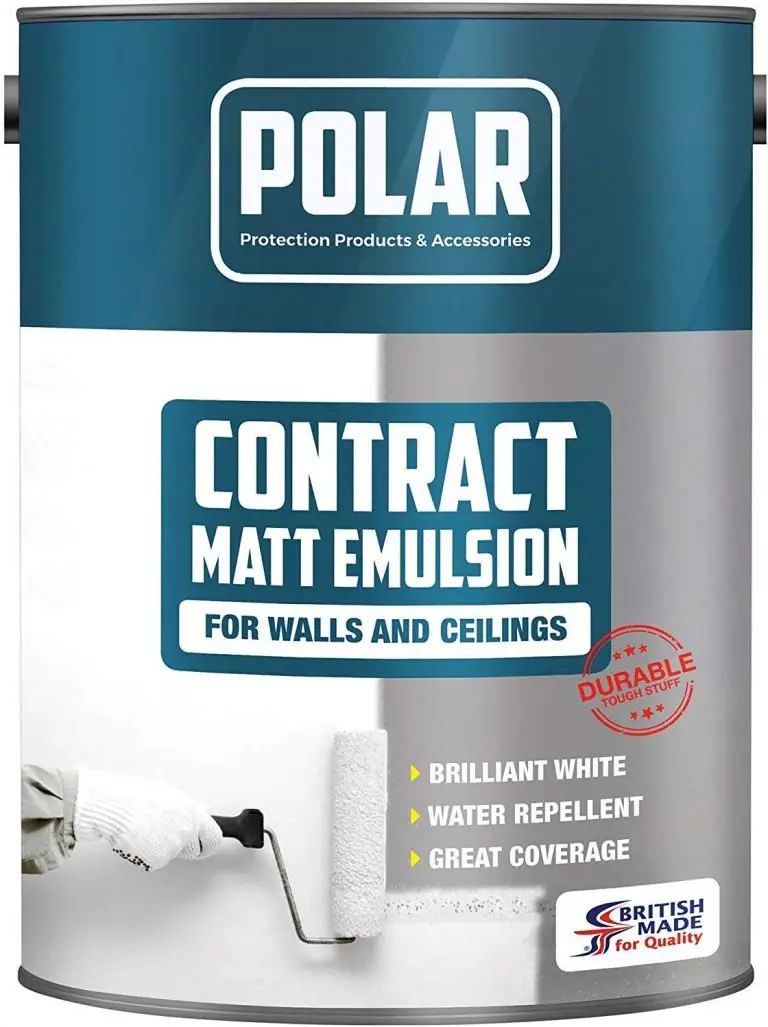 POLAR Contract Brilliant White Matt Emulsion 5L
The Polar Contract Brilliant White Matt Emulsion gives a long-lasting high-quality superior finish that is suitable for interior walls and ceilings.
Polar is a British-based paint company that specialise in the best quality perfomance paint at an affordable price. Infact former owners and founders of Johnstone's paint. Although often priced higher than mid-range brands the finish achieved is often unmatched by the likes of Dulux or Crown.
This fast drying low odour paint can be touch dry within 1-2 hours and able to be re-applied for a second coat within 4 hours. 
Perfect for all rooms including the bathroom and kitchen the Polar white emulsion provides protection through it's water-repllent durable finish allowing it to form a protective cover for walls and ceilings that may be prone to moisture.
You can expect to get around 14m2 per L with this product and it's thick consistency compared to other emulsion paints means that you may need only one coat for the perfect finish.
Apply to the wall with a medium pile roller or a paintbrush for the best finish. While this paint provides one of the best quality emulsion finishes we have encountered, the high VOC of the paint is something that should be noted incase you are sensitive to paint fumes.
Always ensure you have enough ventilation in the area you are painting and you prepare the surface correctly before applying the paint.
Quick-drying time of 2 hours.
Re-paintable after 4 hours.
Thich, high-opacity emulsion paint.
Easy to apply.
Smooth professional finish.
One coat can work well.
14m2 per L paint coverage.
High VOC count may put some buyers off.
More Expensive than other emulsion paints on this list.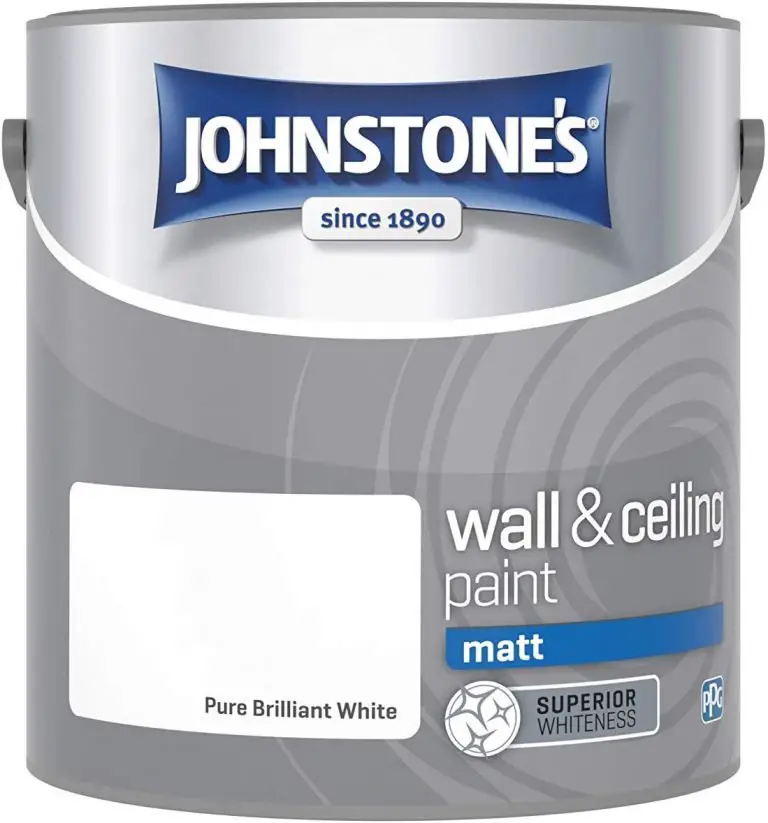 Johnstone's Vinyl Pure White Emulsion 2.5L
Available in over 40 different colours the Johnstones Vinyl Pure White Matt Emulsion is a contender for the best emulsion paint.
Featuring a pure brilliant white finish that boasts superior whiteness when compared to other emulsion paints. It's a hard-wearing durable paint that's suitable for interior walls and ceilings.
While this product is a vinyl emulsion it's definetely not washable so I would avoid using it on any rooms where moisture is present such as the bathroom or kitchen.
Thick in consistency the Johnstone's matt emulsion was a pleasant surprise. Easy to apply with a paintbrush or medium pile roller it appears patchy when drying but dries to a smooth matt finish.
You can expect great paint coverage at around 13m2 per L so with a 2.5L tin you will manage to achieve a coverage of 32m2. With this product you will need to use multiple coats for dark walls.
The Johnstone's matt emulsion for walls and ceilings is touch dry within 2 hours and can be re-coated after 4 hours for the best finish. This product is available in 2.5L and 5L tins wtih colours such as; Aqua, Mocha, Passion Pink and Waterfall Blue.
For a different finish you can purchase the Johnstone's emulsion in Silk inaddition to Matt.
Water-based emulsion
Low odour with quick drying times of 2 hours for touch dry.
Only 4 hours of drying time before reapplication.
Available in Matt or Silk
Different colours available
You will need at least 2 coats for full coverage.
Not suitable for bathrooms and kitchens.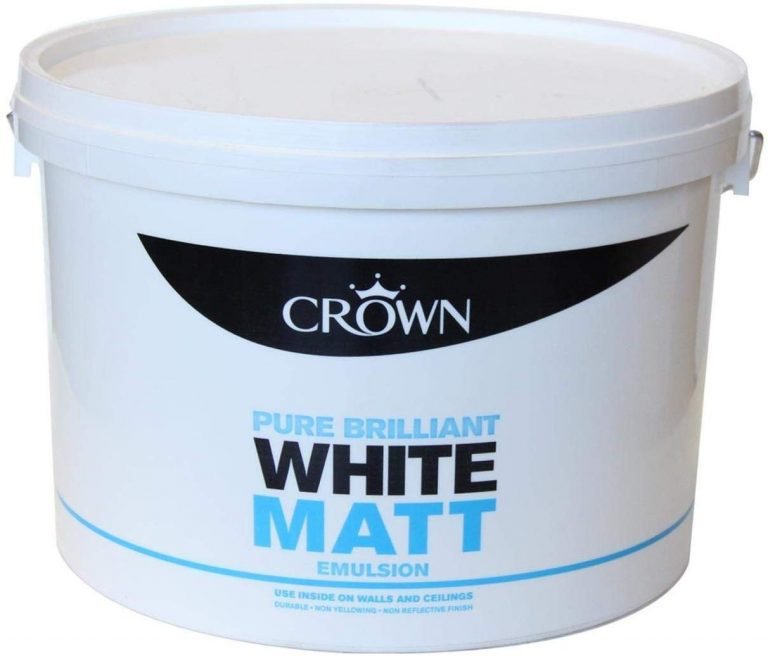 Crown Pure Brilliant White Matt Emulsion 7.5L
This product from Crown boasts a pure brilliant white matt finish for walls and ceilings. This Crown emulsion paint is ideal for those on a budget who are looking for a great finish at a fraction of the cost when compared to other emulsion paints on the the market.
Expect a dry to touch time of 2 hours and a re-application time of within 4 hours when using this product. While you can achieve a paint coverage of 14m2/L the slightly thin consistency means that you will need multiple coats for an ideal finish.
The Crown pure brilliant white matt emulsion is a water-based paint that can be applied with a paintbrush or roller and is suitable for all dry rooms. It would be best to avoid using this paint in a bathroom or kitchen as it's a budget paint with no mould protection.
Use a medium pile roller for the best results using this emulsion paint. The water base of the paint means that it paintbrushes and rollers can be easily cleaned with water so there's not need for hard solvents.
Available in a range of different sizes you will be sure to find a tin for your home paint project. While this product is a cost-effective emulsion paint the quality does not compare to a higher cost product.
Water-based paint with low odour.
Affordable for those on a tight budget.
Quick-drying in 2 hours.
14m2 per L paint coverage.
Will need to apply 2 coats at a minimum
Not as durable as other emulsion paint on this list.
Not suitable for bathrooms and kitchens.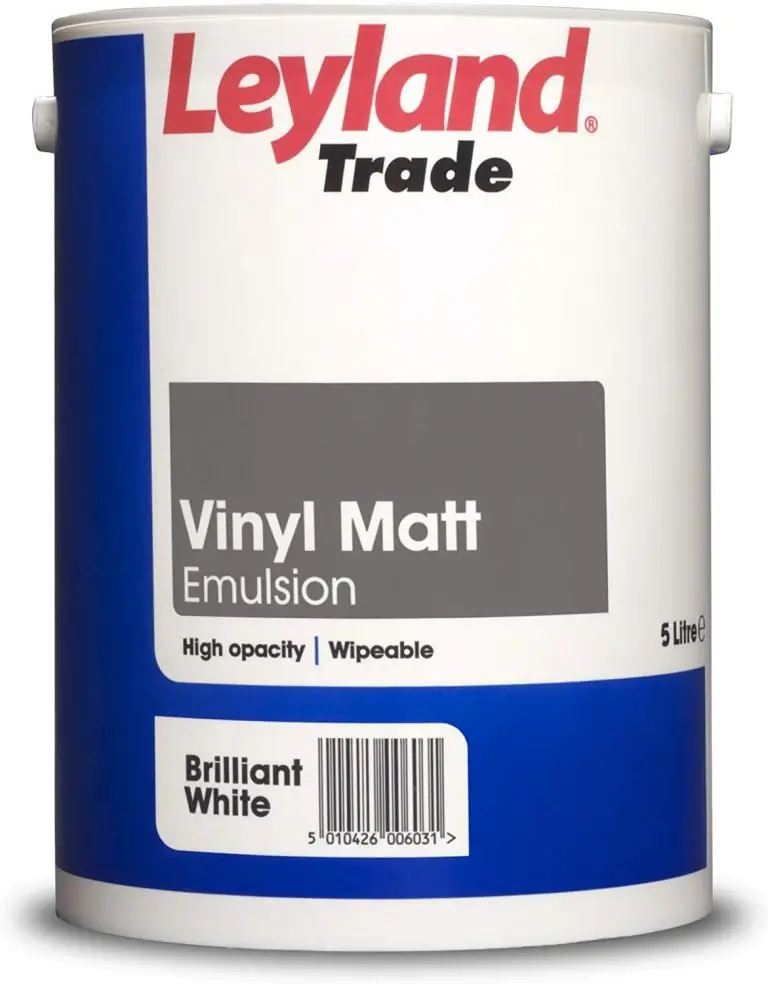 Leyland Trade Vinyl Matt Emulsion 5L
Leyland Trade Vinyl Matt Emulsion is a high opacity and wipeable paint for walls and ceilings that's extremely durable and dries quick for a smooth matt finish with a slight sheen.
Expect the Lyland trade emulsion to be touch dry within 2 hours and available to re-coat within 4 hours. The high opacity of the product ensures that it can sufficiently cover darker colours with minimum coats.
For the best results apply 2 coats using a paintbrush or medium pile roller. While the paint holds up well in bathrooms and kitchens it's not a specialised moisture resistance paint so we advise it to be only used in dry rooms such as the living room or bedroom.
Available in a range of differnt colours such as Brilliant White, Dove Grey, Cream, Black, Magnolia and Pearl. This emulsion paint offers a good amount of flexibility in the choice of colours and sizes.
Good paint coverage of 14m2 per L this water-based paint provides a great amount of paint coverage for a matt emulsion and the low VOC content makes it less harmful to use.
The finish is easy to clean and wipe so it's suitable for heavy traffic areas without worry and will hide any small minor imperfections on the wall it's applied to.
This product is a great choice for a heavy duty, high opacity trade emulsion that's available at an affordable price.
2 hours for touch dry.
4 hours to re-coat with multiple coats
Heavy-duty high-opacity emulsion paint
Easy to wipe and clean.
Low VOC paint.
14m2 per L paint coverage.
Not suitable for bathrooms and kitchens.
Selecting the best emulsion paint for walls and ceilings really comes down to the opacity of the paint, how much paint coverage can be achieved and the finish of the paint. While it's hard to pick a clear winner we've highlighted the best choices that we managed to come across.
For the best emulsion paint for bathrooms and kitchens then the only one on this list that's suitable is the Polar contract matt emulsion that features a water repellent finish for walls and ceilings. The dulux matt emulsion is a popular choice for an all round matt emulsion paint that has a long-lasting colour.
Emulsion paint can be used for any room within your home where you want a high quality paint finish. You can use emulsion paint in the living room, kitchen, bathroom, bedrooms and hallways as it provides great coverage for an affordable price.
There are different types of emulsion paint that offer different looks and finishes to different walls which depend on personal taste.
A matt emulsion will give a smooth, velvet-like low sheen finish to your room.
While a silk emulsion will produce a mid-sheen finish that adds a reflective element to your walls that can help to maximise space by utilising light to make the room appear larger.
As you can see it's all down to personal preference which emulsion paint finish will best suit your home.
What Colours of Emulsion Paint Are Available?
With emulsion paint being one of the most popular paint finishes for the home there's a great choice of colours and variety to choose from. This variety allows near endless possibilities when you are creating a unique look to a room that has your personal touch and character.
Due to the enormous range of colours and formulations available in matt paint there's no best emulsion paint colour for walls. Although the most popular shade is white for a bright light finish that appears to open up rooms where it's been applied.
While white is the most popular colour finish of emulsion paint it doesn't mean there aren't any great alternatives and that all depends on the room your choosing the paint and what you want the final result to look like.
Living Room
Living rooms often employ warm colours that create a nice welcoming atmosphere for family members and guests.
There are so many style options when it comes to painting a living room with emulsion paint, earthy tones such as brown or burgandy can provide a rich, bright colour scheme or more neutral tones such as light grey or magnolia can produce a more relaxing look.
Feature walls can be added into a living room to bring contrast to your space and input a hint of your personality into an otherwise quiet room.
Bedroom
For a bedroom you have a choice of any colour combination that comes to mind, often a relaxing place for adults inspires alot of pastel, neutral, subtle colours such as blue, light green and greys.
With childrens bedrooms often being more entertaining they utilise brighter, bold colours and shades such as strong reds, blues, pinks, greens and purples.
However the choice is always personal preference and you want the colour of the bedroom whether it's an adult bedroom or a child's to reflect their character.
Kitchen
For a kitchen you are free to go in whatever direction you would like, from bold colours to subtle pastel colours. There really is not bad colour scheme for a kitchen, it's personal preference.
While the focal point of a kitchen will be your kitchen units and cabinets the shade of the wall can contrast those cabinets or compliment them.