DIY Boss
Disclosure: This post contains affiliate links. As an Amazon Associate we earn from qualifying purchases. You can read our full disclosure here.
Often applied to interior and exterior wood and metal surfaces due to it's high level of protection and high-sheen appearance. Gloss paint can also be a great solution for areas that suffer from moisture and condensation due to its protective qualities.
The most popular paint for wood and metal. Applying a fresh coat of gloss can brighten up your woodwork, trims and doors. But with a variety of different paints on the market offering a high-quality gloss finish it's often a struggle discovering which is the best gloss paint you can buy.
While the choice is hard when you are not sure exactly what you should be looking for, fortunately there are a few standout products that offer great levels of high sheen paints which are hard-wearing and durable that get the job done with a professional finish to your paintwork.
Expect a hard-wearing and high-quality paint finish that's mainly used on woodwork and metal around the home. It can be used on high moisture or condensation prone rooms within the home such as the shower room, toilet, bathroom, kitchen and around doors and windows due to it's high level of protection.
The properties of gloss paint that make it unique are it's hard-wearing durability, protection and noticeably high-sheen finish along with it's easy to apply application and non-noticeable brush marks from using a gloss. It can be easily wiped clean and protects the surface well from bumps, scrapes, scuffs and moisture.  For those reason's it's often applied to high-traffic areas around the home as other paint types would fail to protect these areas better.
Dulux Quick Dry Gloss Paint 750ml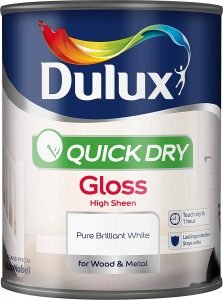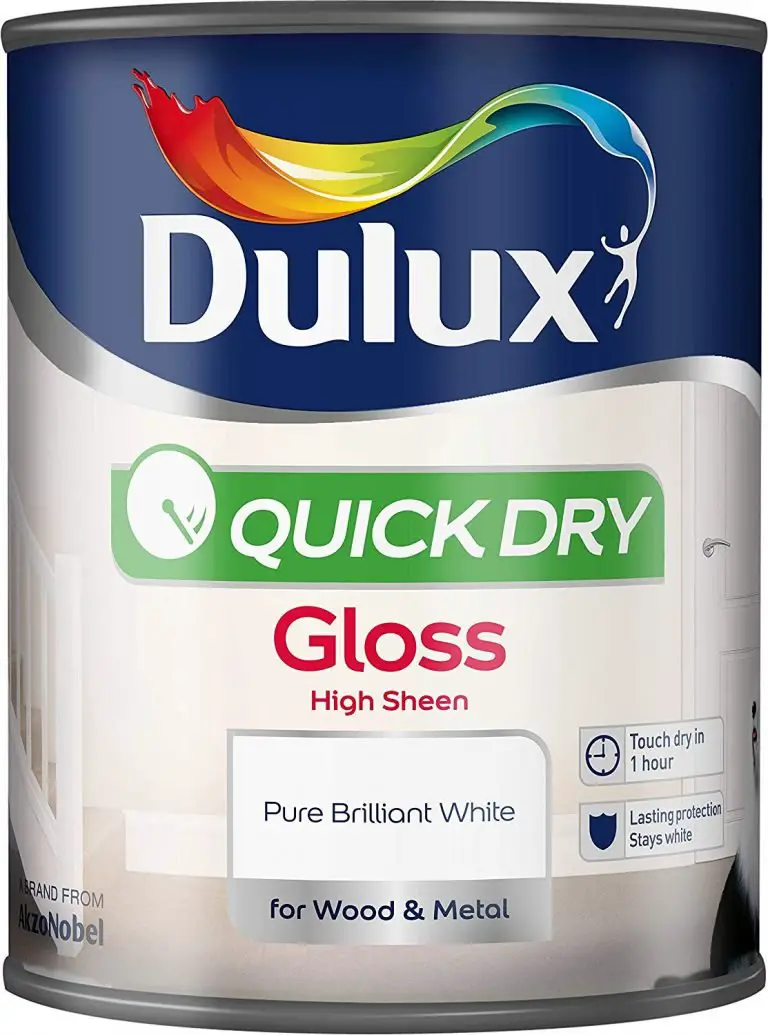 Best Gloss Paint – an excellent all arounder product that takes our vote for the best of the best when it comes to Gloss. Unlikely you will be disappointed.
Johnstone's Non-Drip Gloss 2.5L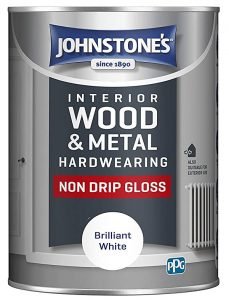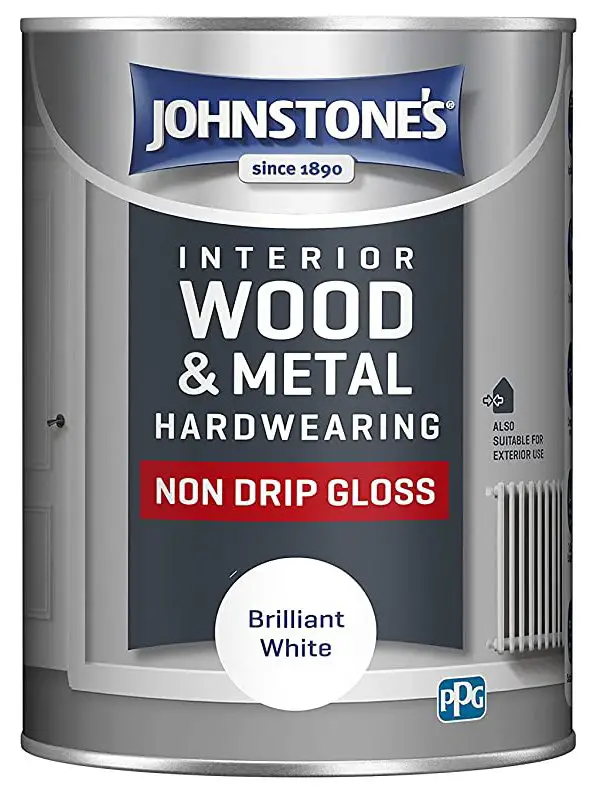 Best White Gloss Paint – A white gloss that provides excellent coverage and protection to wood and metal. Get a fantastic high-sheen finish with this product.
Dulux Weather Shield Quick Dry 750ml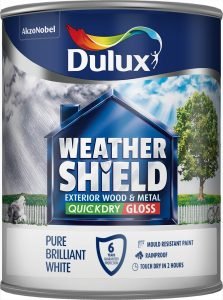 Best Exterior Gloss Paint – The choice for outdoor and exteriors this exterior gloss provides great protection and coverage for those looking to do some outdoor painting.
The UK's 5 Best Gloss Paints Reviewed
Gloss paint provides a cost-effective way to finish woodwork and metal around the home. It offers ease of application and a superior level of protection when compared to other types of paint finishes. 
The high-level of sheen that displays may not be to everyone's taste as within recent years there's been less demand for gloss paint. However, it's superior level of protection and ease of use still makes it one of the best products to use in your home.
Available in water based or oil based compounds, while water based gloss paints are known to be not as hard-wearing as traditional oil-based gloss they do offer an added benefit. Water-based gloss doesn't yellow over time, providing a great option to those who were looking for a hard-wearing paint that won't yellow or dull paintwork.
When writing our list we looked at a number of factors to produce a guide that will benefit the majority of people. We looked at the gloss paint drying times of each product, the durability, ease of use for beginners and experts in addition to value for money. Everyone loves a cheap gloss paint bargain or offer right?
We Want Your feedback!
If you've come to select a paint and want to share feedback then we are all ears! We provide advice and reviews on alot of paint products but we don't want the journey to end there. Share any feedback you have below, let us know how you got on with a certain gloss paint or ask a question if you need help.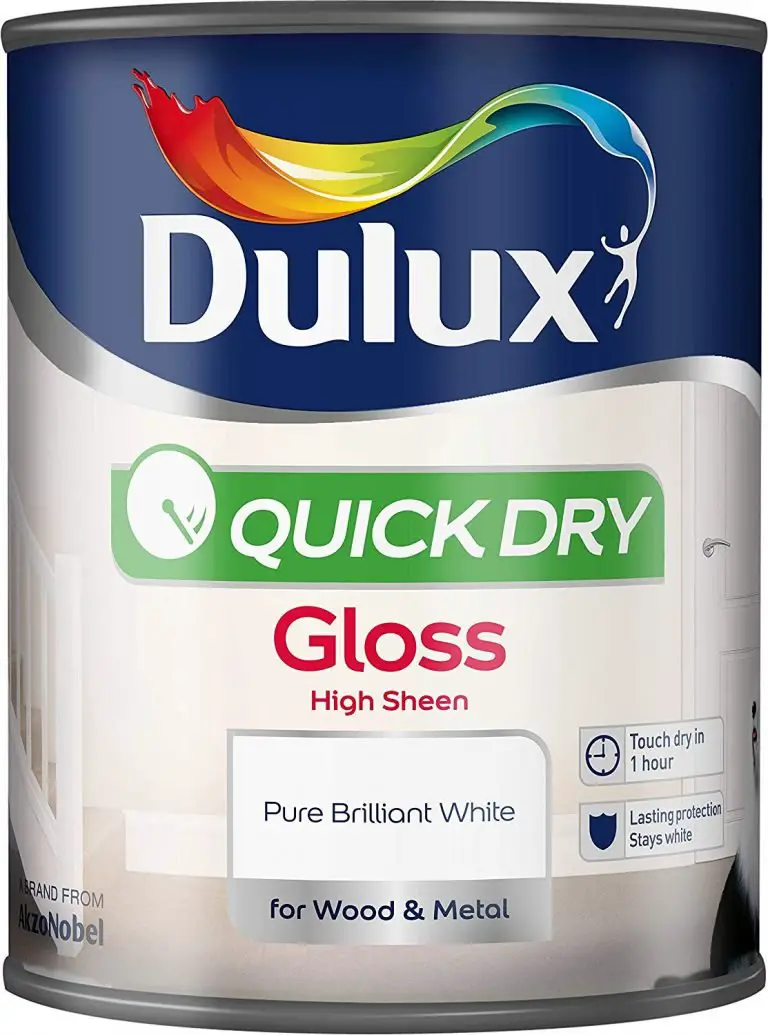 Dulux Quick Dry Gloss Paint Review
The Dulux Gloss is a quicky dry formulated paint that's suitable for wood and metal around the home. You do not need to apply an undercoat with this paint and it provides a high-sheen protective finish.
This paint does a fantastic job of brightening up areas that appear dull and have yellowed over time. The Dulux Quick Dry Gloss Paint is available in a range of different colours not only white which makes it our best overall gloss paint.
Available in Black, Orange, Blue, Grey, Magnolia and green means that there's plenty of choice for painting your woodwork and metal in your choice of colour. The dulux colours are named different like; Orange Fizz, Proud Peacock and Lime but the choice of different colours make it a great selection when you come to buy.
Expect this water-based paint to release little to no odour and be touch dry within 1-2 hours and re-paintable after 6 hours. With most water-based gloss paints it will require several coats for full coverage. This is due to the thin consistency of the paint.
When applying this product ensure that all windows are open and that there is plenty of ventilation and you have prepared the surface by cleaning with sugar soap or any household cleaner.
You should be able to achieve at least 12m/2 per Litre coverage from the Dulux Quick Dry. 
While the Dulux Gloss paint is water-based which means that it's not as hard-wearing as oil-based gloss but will reduce the chance of the paint yellowing. 
This makes it our best overall paint for a high-sheen finish that offers great protection and value for money. Available in a range of different shades and colours we picked it to top our list.
Great paint coverage that allows up to 12m/2 per Litre.
Easy to apply with brush or roller.
Water-based reduces the risk of yellowing and discourages discolouring.
Available in a range of different colours and shades.
Available in Satin finish also.
Quick drying time of 1-2 hours.
The paint has a thin/watery consistency which means you will need two coats most likely.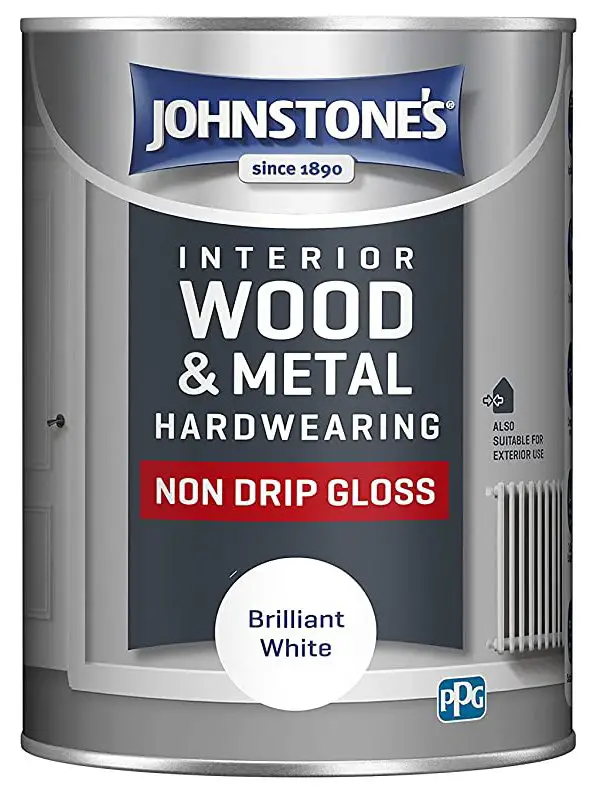 Johnstone's Non-Drip Gloss Review
The Johnstones Non-Drip Gloss for interior wood and metal is a hard-wearing gloss paint available in brilliant white. Also suitable for exterior use however the paint seems to be exclusively marketed for interior use by going with the look of the tin.
Available in 750ml, 1.25L and 2.5L tins you will find a size suitable for your home improvement project. Expect a lengthy drying time of 16-24 hours due to the paint being oil-based the drying time is lengthy when compared to water-based gloss paints.
The traditional solvent based formulation of the interior wood and metal hard wearing paint means that is provides amazing protection to high-traffic areas within the home and doesn't scuff or peel easily.
The downside is that there is a chance of the gloss yellowing, although we didn't experience that it's to be noted that there could be a chance.
With oil-based gloss paints there is quite a bit of odour from the Johnstone's non-drip gloss paint so keep that in mind and prepare effectively by ensuring there's enough ventilation in the area before you begin painting.
We put this in our best white gloss paint category because we needed a proper hard-wearing oil-based gloss paint that would last the test of time and we believe this paint does. If you want a fast drying white gloss then you should choose the Dulux non-drip.
While the drying time may seem long, it's in-line with most other oil-based gloss paints as they are applied quite thickly they need time to fully dry.
Hard-wearing oil-based gloss paint.
Top protection for high-traffic areas within the home.
Non-drip formula means it's easy to apply.
A great paint coverage of around 14m2/L.
Drying time of around 16 hours.
Quite a bit of odour but not more than other oil-based gloss.
Dulux Weather Shield Quick Dry Review
The Dulux Weather Shield Quick Dry paint is a great choice if you're looking for an exterior water-based gloss paint that's quick drying and can provide great protection.
Available in a multitude of different colours such as black, green, blue and red among others the Dulux, via the weather shield brand provides a mould resistant paint that's rainproof and can be touch dry within 2 hours making outdoor paint projects a lot faster than using traditional oil-based gloss paints.
The paint is easy to apply, it doesn't drip much during the application and is very thick in consistency providing great paint opaque. This means you won't need a lot of coats to get good paint coverage.
You will need a paint primer before applying this paint which might put people off as it's not an all in one primer and paint for exterior wood and metal. Dulux recommends the weather shield undercoat which is the same brand.
The paint is guaranteed for at least 6 years which is a great benefit for an exterior gloss paint. There is a non-quick dry version of weather shield that provides 10 years protection here.
Being a water-based paint means that the cleanup process is quick and simple as you can wash brushes and rollers out with water easily.
This paint makes our list in the best exterior gloss category due to it's great protection and easy to use application. Just remember to apply a base undercoat before you apply this paint for the best results.
Quick-drying time of 2 hours.
Re-paintable after just 4 hours.
Easy to apply.
Great high gloss finish.
Easy to clean up after usage.
16m2/L paint coverage.
Non-quick drying version that offers 10 years protection.
Need to apply an undercoat, the weather shield undercoat is recommended which means buying an extra undercoat.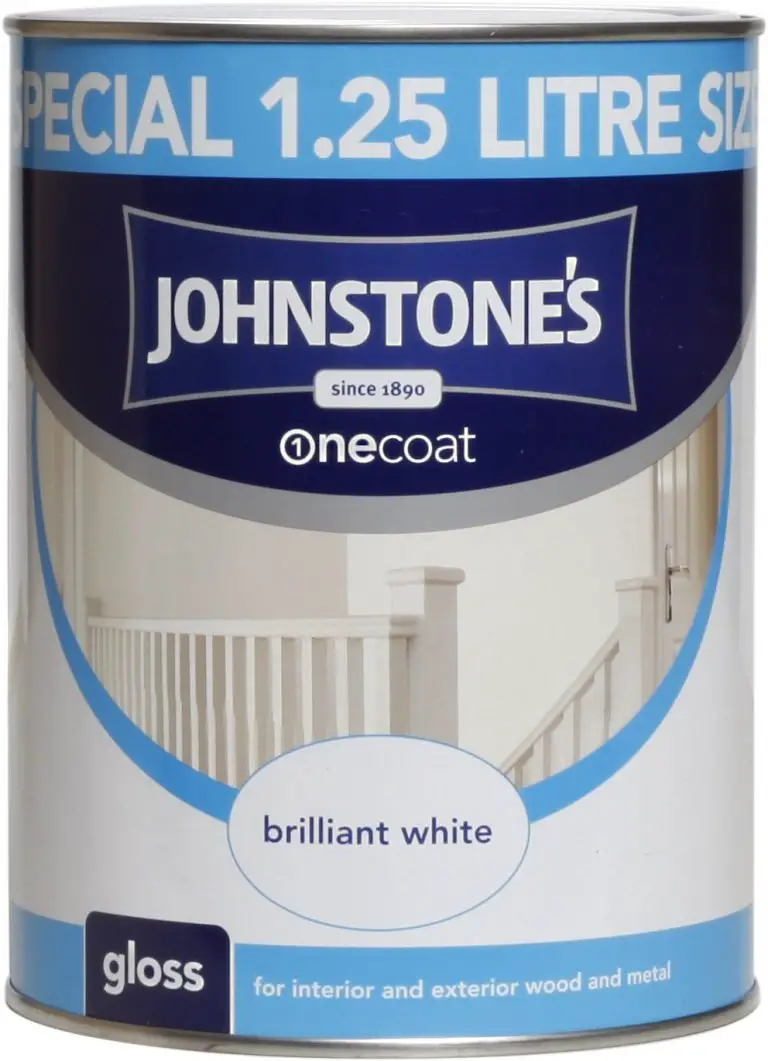 Johntsone's One Coat White Gloss Review
The Johnstone's One Coat Gloss Paint is an oil-based, hard-wearing product that's perfectly suited for interior wood and metal as well as exterior surfaces.
The paint is easy to apply with exceptional premium covering power that provides a high-sheen protective finish to home woodwork.
As with most oil-based solvent paints there's a lengthy drying time so expect at least 16 hours to a maximum of 24 hours for the paint surface to fully dry.
However the one coat feature means that the thick paint consistency covers extremely well and unless the surface you are applying to the paint is a really dark colour you won't need multiple coats which cuts down in the paint process.
This paint is a budget friendly option for a high-gloss paint that provides a great finish for a fraction of the cost of other products. It has a self-undercoating feature that means that one-coat really is enough.
Easy to apply with a paintbrush or a roller, you can expect a paint coverage of 10m2/L.
This high-sheen paint will have not problem giving your interior woods a fresh look. It features a non-yellowing formula that's rare to see in an oil-based gloss that actually works.
Non-yellowing high-quality white pigments that provide long-lasting coverage.
Self-priming formula means one coat really is one coat.
Expect a 10m2/L coverage from this budget paint.
Inexpensive compared to other gloss paints in similar sized tins.
High-sheen gloss finish to interior and exterior surfaces.
May need multiple coats for covering dark surfaces.
One colour available – Brilliant white limits consumer choice.
Rust-Oleum Universal All-Surface Paint
Rust-oleum's universal All-surface paint with an advanced formula is suitable for both indoor and outdoor surfaces and features a paint and primer in one.
This oil-based gloss paint has a drying time of around 2 hours in which it's touch dry. You can handle the surface after 8 hours but the paint will not be fully dry and recoatable within 16 hours after the first coat has been applied.
You can expect a paint coverage of around 9m2/L which is quite low but consider that this interior and exterior gloss is both a primer and a final coat in one then the coverage doesn't put it in bad favour.
A range of colours are available including; gloss white, grey, yellow, blue and brown means that it could be the perfect choice for your home wood and metal work.
The all-surface paint can be applied directly to wood, metal, plastic, ceramic and even rust surfaces. For stain blocking and non-ferrous metal it's recommended that you apply an additional primer to the surface before the Universal paint.
When applying this product ensure that there is plenty of ventilation in the area as the paint can be quite odorous.
You will get a final high-sheen gloss finish that's durable and hard-wearing with this oil-based gloss paint. Available in 250ml or 750ml tins this should fit most people home improvement neets for a strong gloss in a range of colours.
Tough solvent-based paint that will protect from rust and scrapes and bumps.
Can be used on interior or exterior surfaces
Touch-dry within 2 hours.
Re-apply coat in 16 hours if needed.
Thick consistency and all in one universal paint means it has alot of application uses.
Available in grey, black, red, green, blue and others.
While the thick consistency means it's easy to apply it does mean that the coverage is smaller compared to other paints.
With gloss paint it comes down to what type of paint you want to be using. Whether that's an oil based or water based paint. Also you need to consider what surface you are applying the product to and if it's an interior or exterior. 
All of the products listed on this page have varying drying times and protections. For the best gloss paint then we recommend the Dulux Quick-Dry gloss for the best overall product. While most paints are available in white for different gloss colours you will need to dig deeper to find one that fits your decor ideas.
What You Need To Know About Gloss Paint
A gloss gives you a high-sheen finish. The most hard-wearing type of paint for interiors it provides great protection from scuffs, bumps and peeling. While the high-sheen finish is a personal preference no other paint provides more protection than a durable gloss.
Gloss Paint Colours
It can be quite difficult to find the perfect colour or shade for painting your interior wood or metal surfaces, with many paints available in white or pure brilliant white you may struggle to find a more personal colour that suits your home decor vision.
There are different colours of gloss available although and it all depends on preference. Here's a small list of other colours available.
You can read a review about the Rustoleum all purpose, all surface paint above.