Tiling your bathroom with new wall tiles can be an exciting project but you might be daunted by the fact that your bathroom already has wall tiles and you came here looking for the answers to the question, can you tile over wall tiles in a bathroom?
Old tiles can make a bathroom look very dated and the current setup might be out of style for what you envision your bathroom to be. Bad looking tiles can really ruin the look of a bathroom so you might be considering re-tiling. With that said many people put off tiling a bathroom and dread taking on the challenge because it usually means removing all the old tiles before applying new ones.
Subscribe to our newsletter as we release new site features and publish new home DIY projects.
What if that wasn't the case although. What if you can tile over wall tiles in the bathroom. Would you do it? Well, you can but a better question is should you and why would you?
So can you tile over wall tiles in a bathroom? Well yes, you can tile over bathroom wall tiles although this is rarely the best choice to make when you start your bathroom renovations. There are visible indicators that can tell you that this approach is not going to work and it would be better to strip the old tiles first. Saving you from wasted time, energy and money.
If you are going to tile over wall tiles in your bathroom then you need to make sure you take the correct steps to ensure you have the best success rate possible. Preparation is always the most important part of any project.
Be aware though, if the bathroom tiles are in bad condition and show signs of deterioration then tiling over them will cause more problems and you will likely need to remove the old tiles and retile the bathroom wall.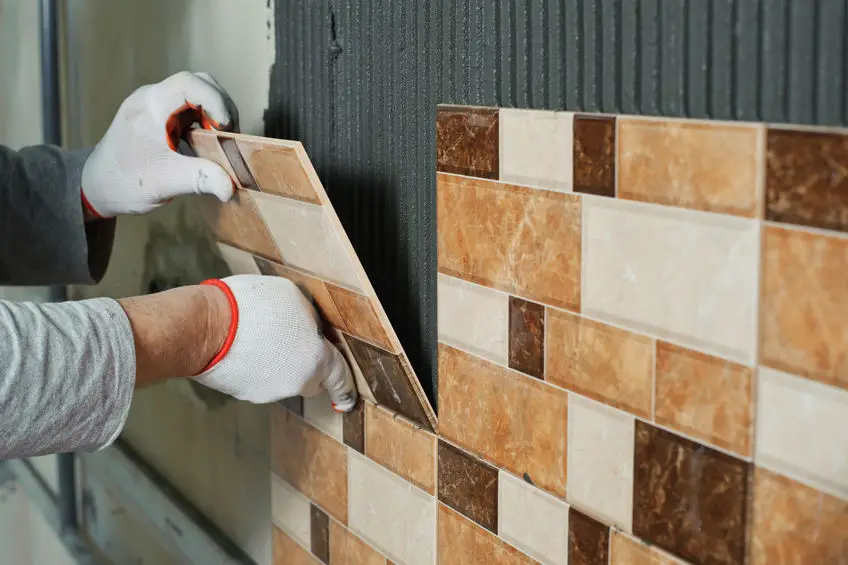 Why Should You Re-Tile?
The re-tiling process can seem like a big challenge but if it needs to be done, it's best to do it now and avoid it causing problems in the future. Keeping your tiles in good condition allows them to perform well and stay looking good. If you don't fix broken or chipped tiles then you open your walls up to the possibility of water and moisture entering the cracks.
When you have bathroom wall tiles that are in bad condition then you may start to suffer from water damage within your walls. You can experience a build-up of moisture and water behind the tiles which will seep into walls and encourage the growth of mould and mildew if they are not properly tended.
So how do you fix this problem?
Re-tiling the whole bathroom wall might not be necessary. You might have leftover tiles from the previous tiling process that means you can just replace the broken or chipped wall tiles for continued protection.
While replacing wall tiles can be a quick, cost-effective way to upkeep your bathroom tiles it may not be possible when there is a large number of damaged tiles. This is when re-tiling may be the best option for your home.
Why Do You Want To Tile Over Tiles?
First, it's really important to discover the reason why you are looking to tile over your bathroom wall tiles in the first place. It's an unconventional approach to tiling bathroom walls and it's definitely not the best way to approach a home tiling project.
Why isn't is the best approach? So many things can go wrong and you are usually always better of just stripping the old tiles and starting with a new base. Without good reason not to remove the old tiles first then you should always start with a clean slate before re-tiling. That may not be the advice you are wanting to hear but professionals will never retile over existing tiles so why would you.
One of the reasons people want to tile over tiles in a bathroom is that they believe it's an easier way to give them the look that they want and will take the least amount of money and time to achieve.
While it may seem easier on the surface. If things go wrong then you've wasted time, energy and money on supplies and will have to start again or get in a professional to fix the damage caused which can end up being very costly.
Why You Should Not Tile Over Wall Tiles
Unless you know the condition of the wall under the tiles then tiling over bathroom wall tiles is not the best idea.
If you do not know the condition of the walls underneath then any additional weight that is applied to the current tiles can cause the tile to separate from the wall. If water damage has already entered the wall then simply covering moisture build-up will still allow mould and mildew to spread behind the tiles.
When the adhesive between the walls and the original tiles, any additional weight added to the tiles will cause more pull pressure to the wall which can lead to the separation of the tiles from the wall or open up more points where water and moisture can enter.
Another thing is that if you have damaged tiles or chipped tiles you are going to need to fix these issues before you re-tile with new tiles. Tiling over damaged tiles will not allow the new tiles to set correctly that's why it's often easier to remove the original tiles and prepare the area for new bathroom wall tiles to be applied.
Summary
Tiling over existing wall tiles in a bathroom can be done, make sure you prepare the area correctly, clean well and fix any damaged tiles before you start. With that said, however, we think it's better to remove the old tiles first before you retile a bathroom wall for the best results. It allows you to be more confident with the finish as you now know the state of the wall underneath.
Have you had any success with tiling over tiles in the bathroom? Then let us know what your process was and how it all went.
We are sorry that this post was not useful for you!
Let us improve this post!
Tell us how we can improve this post?